Convenient foraging bag for seeds, flowers, fruits and veggies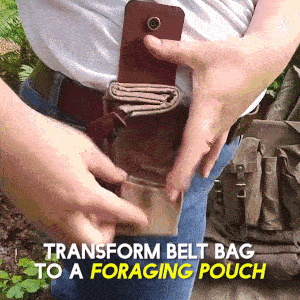 Make harvesting fruits and veggies in your garden convenient by having a Waxed Canvas Foraging Pouch on your waist. This durable and collapsible pouch makes picking of produce easier. The retro-style foraging bag is made of canvas and leather material that you can unfold and convert into a pouch bag. It makes for easy and hands-free picking of berries, tomatoes, lentils, and more fruits and veggies  harvested into a 9.25 x 8.27 inches pouch. Lightweight and easy to buckle on the belt.
HIGHLIGHT FEATURES
Transform a belt bag into a pouch.

Use Waxed Canvas Foraging Pouch to harvest fruits and veggies in your garden. The collapsible design of the leather pouch bag eliminates the need to carry around a basket.as you pick your product. Simply pick and slip them into the pouch until full. 
Convenient and hands-free picking.

Designed to be attached on your waist belt, this foraging pouch is durable and has a large capacity of 9.25 x 8.27 inches to carry a good number of produce up to 2kgs of weight. The attached pouch provides more convenience and hands-free operation.  
Sturdy and multipurpose

. A great minimal outdoor carry bag that transforms into a large container. Made of canvas and leather, the pouch can be used to fill with flowers, mushrooms, seeds, fruits, veggies, herbs, and more.  
Product Specification:
Material: canvas, leather 
Product Size: 9.25 x 8.27 inches
Product Weight: 90 grams 
Color: brown, green, black, beige 
Package Included:
1  x Foraging Pouch