Launch water and strike targets with just 1 click!
In this era where kids prefer to play at home with their tablets and smartphones, RC cars can potentially get your kiddo out in the open where he can enjoy the same real, palpable action. And who knows, maybe he'll even turn into a petrol head with a successful career in motor racing. If they're ready to drive their own remote control car, WaterShoot! Off-Road War Tank will never fail to meet your expectations.
Launch water and strike targets with just 1 click! This tank is packed with a mean off-road punch and special functions that any kid will surely love. 


HIGHLIGHT FEATURES
Real-life model:

This scale mini remote control toy looks like a real tank with bubble and water shooting features. It can also do 360° Rotating Turret, Recoil Action When Cannon Artillery Shoots, drift horizontally and obliquely and .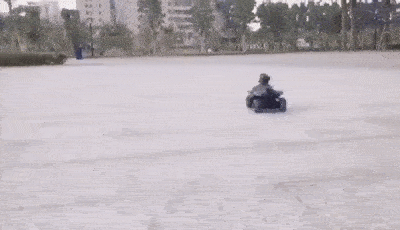 No-Hassle Off-Roading

:

Tough, durable, fast, and lets kids shoot and drive on the move. This off-road car can drive forward, turn left, turn right, backward, with light, turret rotating, firing sound effects and even sideways.
Magnetic Interchangeable Tops

:

It has the features of two different tops, including a bubble shooter and a water gun. The magnetic top also lets them swap out shooters in seconds. Playing with friends or racing other vehicles become even more exciting.
Heavy-Duty Rock-Crawling Tires

:

Let kids drive on and off road, including sidewalks, grass, or in the living room with enhanced climbing strength and fast-drifting action. The amazing crawling technology and strong shocks makes it easy to climb over pebbles and large stones without affecting its performance.
Long-Lasting Battery Life

:

This wireless ready-to-run car is perfect for high-speed racing, challenging rock crawling and drifting like a master. Its stored power enables you to effortlessly complete various eye-catching motions, long distance racing and flexible movement even for long hours.
Product Specifications:



Material: Alloy + plastic + electronic components
Size: 22 x 30 x 19cm
Charging time: 2 hours
Usage time: about 30 minutes
Remote control mode: 2.4GH
Remote control distance: 50m
Charging mode: USB charging cable


Package Included:

1 x Remote control Car
1 x Remote control
1 x Body battery
1 x Charging cable