Warm your eyes before sleeping to relieve tired, dry and fatigue eyes
Tired, achy and dry eyes? Soothe and give your eyes a warm and gentle massage with Warm Eye Patch EMS Thermal Mask Massager before bed. This eye massager gives your eyes the much needed pampering especially after a long day of staring at screens.  It's an eye mask with added EMS function that sends micro-currents around the muscle of the eyes which helps relieve tired muscles. It has 3 adjustable heat levels to suit your preference. 
HIGHLIGHT FEATURES
Soothe tired and achy eyes before bed

. Before you fall asleep, give your eyes a soothing massage using Warm Eye Patch EMS Thermal Mask Massager. It has an EMS function that sends microcurrents to the orbicularis oculi muscle and temporalis muscle around the eyes that relieves tiredness. The EMS massager automatically turns off after 3 minutes and has an adjustable level of stimulation from strong, medium and weak. 
Pamper your eyes with heat therapy and microcurrents

. Made of unique current-carrying fiber that provides electrical stimulation of EMS without the need for water or gel. It also has an added heat therapy feature with 3 adjustable levels of heat to suit your preference. The eye holes are designed into a 3D cushion structure to fit any eyes and protect even eyes with false eyelashes. Heat therapy automatically turns off after 20 minutes. 
Easy to use and portable eye massager.

The massager has antibacterial materials but is also washable. Simply remove the cable to wash. It's USB powered so you can easily connect it to a PC, laptop, powerbank, or use a USB charge adapter to directly connect to the power source. It also comes with a storage pouch to conveniently carry around for travel, trips, or bring it in the office to get a quick eye massage.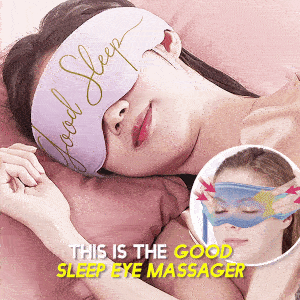 10-minute eye massage every night.

 Relax your eyes and get rid of the dryness, tiredness and fight the signs of aging by using this eye massager for 10 minutes before going to bed. It's an intensive yet gentle treatment for your eyes. 
Product Specification:
Material: EMS, current-carrying fiber 
Product Size: ‎13.4 x 13 x 13 cm
Color: purple, blue 
Technical Specifications:
Power supply: USB power supply
Timer: EMS: Automatically off for about 3 minutes / Heater:
Automatically off for about 20 minutes
Program:
 EMS: Strong / Medium / Weak 
 Heater: Strong / Medium / Weak 
Package Included:
1 x eye massager
1 x USB cable 
1 x storage pouch