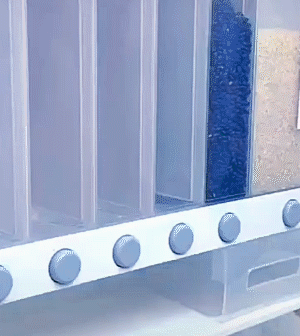 Small kitchen? Maximize your storage space and organize your dry food supplies with this Wall-Mounted Dry Food Dispenser. One container in six compartments allows you to store different food and dispense them in one-push button for convenient access.

Store more food in one place. Wall-Mounted Dry Food Dispenser allows you to store bigger volumes of food in one container. One big container with 6 separate compartments and individual dispenser buttons. Store up to 10kgs of rice, beans, cereals, flour, grain, and more.
Organize food supplies better. No need for separate jars, boxes or containers. You can organize dry food supplies easier and in higher volume. No need to scour your pantry and cupboards looking for your ingredients. Easily dispense what you need. Besides, the transparent barrel display brings a good pop of colors in the kitchen.
Maximize your small storage space. Small kitchen? No more storage space? Make use of your empty kitchen wall on the counter and turn it into a storage space. Attach the wall-mount dispenser through stick-on installation. Stick on the countertop wall, refrigerator side or simply put it on the countertop for display.
Safe to store your food supplies. Store your food without worries. Made from environment friendly PP material. It's moisture-proof, insect-proof and secure lid to prevent food from damage and spoiling. The movable partitions also allow you to produce more space for food supplies. With the size of 38x32.4x14.4cm, divide it into 6, 5, 4, 3, 2. Or just 1 whole big dispenser.
Product Specifications:
Material: PP
Size: 38x32.4x14.4cm
Capacity: 10Kg
Package Included: