Watch your plants with amazing growth rates
Give your potted plants a boost by giving them Universal Soil Nutrient Fertilizer Sticks, Pre-measured and time released fertilizer packed with micronutrients your potted plants need to ensure they grow healthily. Suitable for all types of potted plants including flowering plants, succulents, vegetables, vines and many others. Simply stick it in the soil to nourish the roots and soil continuously for 2 months. 
HIGHLIGHT FEATURES
Fertilizing plants made easy

. Boost and regulate your potted plants growth without manually applying fertilizer every now and then. Universal Soil Nutrient Fertilizer Sticks is a pre-measured and time-release fertilizer that provides the needed nutrients of plants continuously for weeks by only applying it once. It's like getting fertilizer that automatically dispenses on schedule.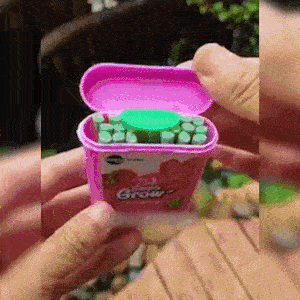 Produce great plants.

Regulate your fertilizing by simply sticking this to your potted plant. Watch your plants with amazing growth rates, more leaves, taller stems, more blooming flowers and fruits. The sticks send micronutrients directly to the soil and roots that makes the plant respond quickly. It's a super easy fertilizer application.  
Rescue your plants from extreme seasons

. One of the most effective ways to survive your plants during the cold winter and hot summer seasons is providing the needed supplements to continuously grow. These nutrient plant bars feed plants continuously for up to 2 months. It's the secret to healthy vibrant plants all year round. 
Product Specification:
Material: plant supplements 
Product Weight: 0.05 kg
Color: pink
Package Included:
1 x pack Gardening Plant Nutrition Bar