Are you tired of spending endless hours on taping windows, doors and roof lines, only to see spits, drips and wrong sprayings?
The accessory tool is specially used for wall color separated spraying, and create a clear colors wall spraying effect. Use the tool to extend long pole sprayer nozzle, the baffle can avoid wrong spraying due to paint splash.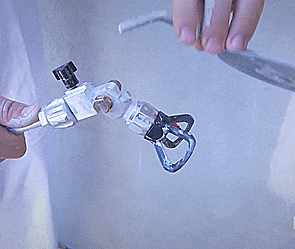 FEATURES
EASY TO USE
Easy to assemble and reduce the mess that a paint spray produces. You can also reach high areas without using a ladder.
TIME SAVER
No more spending lots of time taping, or dropping sheets before starting the paint job.
UNIVERSAL FIT


Fits most spray guns that are 7/8", adopted the quality Tungsten Steel, good workmanship, solid and durable.
CONVENIENT
Quickly spray edges & trim. Fully adjustable pressure, spray head, and baffle.
SPECIFICATION
Size: 25 x 6cm

Material: Tungsten steel

Color: Red + Silver + Black

Sprayer Nozzle Size: 5 x 5.5cm

Spray Guide Accessory Tool: WPR 34.5MPa

Maximum Pressure of Airless Spray Tip(315): 34.5MPa/5000PSI/345Bar.
PACKAGE INCLUSION
1 x Seal

1 x Airless Spray Tip

1 x Spray Guide Tool