Monitor your barn, stable, poultry house and farm properties at night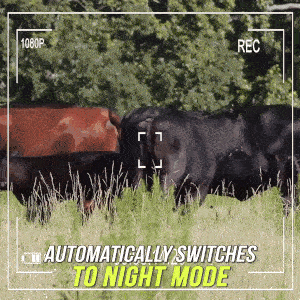 Keep an eye on your livestock especially at night using Trail Wildlife Camera 12MP With Night Vision. It captures high quality day and night Image, with large aperture, full glasses, wide view angle, high resolution lens component, plus deep optimization on image sensor. This outdoor camera is widely used as a security camera for farms with good distance. Monitor your cattles, sheeps, chickens and other animals. Using no glow, invisible infrared flash illumination technology, this trail camera can capture great night View up to 15m in total darkness (black and white at night). Capture videos and images in 1080P HD resolution. Waterproof and motion activated. It comes with 26 high intensity infrared LEDs for capturing images and video without spooking game. Track your farm animals and keep them safe wherever they go. 
HIGHLIGHT FEATURES
Increase your farm security. .

Capture high definition videos and images even at night using Trail Wildlife Camera 12MP With Night Vision. Maintain security around your farm and easily capture images at 12MP, image sensors at 3MP and video resolution at FHD 1920 x 1080P 25FPS. It has an integrated infrared light that allows you to take black and white images at night.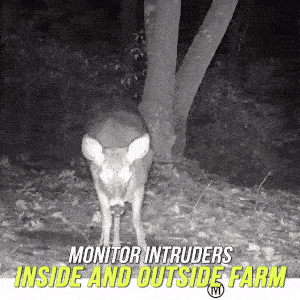 Detect farm intruders and wild animals.

This outdoor camera  has a detection distance of 15 meters and motion activated sensors. Detects and captures images of any farm intruders or wild animal that enters your property. Monitor your cattles, sheeps, horses and more. It has low light infrared and does not produce flash to prevent alarming animals. 
Wide detection angle.

Capture up to 3 photos and 10 videos on working mode with its 110 degrees. PIR angle and 120 degrees lens width. Get a better view of your barn, stable, poultry house and other locations. It has a motion sensor that immediately captures and records when activated at 0.6 seconds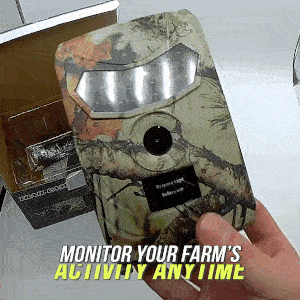 Waterproof outdoor monitoring camera

. Take clear images and videos even when it's raining or under bad weather. Made of IP66 waterproof materials. It's durable, battery operated and can last up to 12 months on stand by mode. Easy to install and use. Now you can keep an eye on your livestock all the time. 
Product Specification:
Image sensor: 3MP color CMOS.
Photo resolution: 12MP 4032 x 3024.
Video resolution: FHD 1920 * 1080P 25FPS.
Trigger time: 0.8S.
Working mode: 3 photos + 10s video.
PIR angle: 110 degrees.
Lens: 120 degrees wide.
Infrared light: 26 940nm black light, 15 meters.
PIR distance: 15M.
Memory: Max Micro SD 32GB (not included).
USB slot: 5-pin USB 2.0.
Power: 4 AA batteries or DC 5V (not included).
Waterproof: IP54.
Standby time: 12 months.
Standby current: 0.01mA.
Size: 135 x 90 x 55mm.
Package Included:
1 x Trail Camera
1 x Strap
1 x USB Cable
1 x User Manual