Easily remove dirty stains in stainless things without effort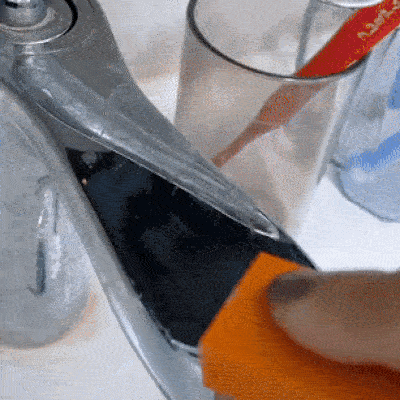 If you have fooled around for hours with steel wool and cleaning chemicals, but are still stuck with those stubborn dirty build ups. This Stainless Steel Stains Eraser takes off the very hardest stains and brings back the luster of your stainless steel effortlessly.
Imagine getting rid of build up stains using a chemical-free and abrasive-free scrub. Stainless Steel Stains Eraser deep cleans your stainless steel and restores its shine and sparkle without the need for harmful chemicals and heavy scrubbing.
HIGHLIGHT FEATURES
Remove stubborn and lingering dirty build ups

. Deep clean your stainless steel surfaces of grimes and hard water stains 10x better than typical brushes and detergent solutions.
Easily scrub away the stains in your "stainless" steel.  Bring back hard water stained faucet, burnt bottom pan, grimed kitchen sink or shower head to its original shine. The Stainless Steel Stains Eraser uses high quality emery sponge that easily scrub, polish, descale and remove stubborn stains better than standard sponge, brush or steel wool.
No need for heavy brushing. Don't tire your hands from heavy scrubbing without getting any visible results. The Nano Alumina sand scrubs out any lingering stains and polishes stainless steel without leaving any scratches on the surface. 
Easy cleaning without harmful chemicals.

Cleaning solutions can be harmful to your skin and can leave damage to your favorite stainless steel. This cleaning scrub has a high-density exfoliating capability that easily descale and de-grime stainless things such pans, kettles, faucets, showerheads, sink, utensils, and more
Clean better than your typical cleaner. Sometimes, your typical cleaning brush and cleaning solution just won't cut it. This cleaning eraser has strong cleaning power, doesn't scratch the surface and is hygienic than typical sponge. It's eco-friendly, durable, wear-resistant, highly elastic and lasts 20x longer than ordinary steel wool pads.
Product Specification:
Material: sponge, emery
Product Size: 8x 2.5x 1.3 cm 
Product Weight: 
Color: orange
Package Included:
1 x Stainless Steel Stains Eraser