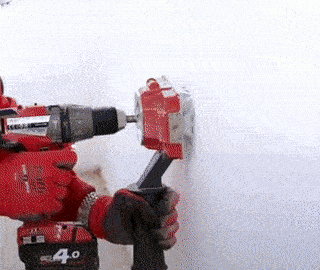 Cut perfect square holes in one go using this Quick Square Hole Cutter. An extremely handy tool for cutting squares or rectangular holes on drywalls. It attaches to the drill and cuts on four sides with its built in square shaped cutting blades. It easily speeds up the job and in a much efficient and neater finish.
FEATURES
Cut cubes in no time.

Using Square Hole Cutter Drill Attachment, it reduces the time cutting square and rectangular holes on plaster walls. It has 4 durable blades positioned in square shape. Attached to a drill and it easily cuts up ½ " thick of cement board 4x faster than traditional methods. 
Lets you be more productive.

 Fits on a drill with a universal 1/2 inch chuck and No Load RPM between 1750 – 2500. It's a handy tool for cutting squares in uniform and neat output. You can practically cut hundreds of squares in a day.
Handy tools for hobbyists and professionals.

A great tool to use in home renovations, constructions and even handy for electricians. It cuts cubes neatly for mounting electrical boxes, sockets and switches, and covers up the hole exactly as it is. 
Steady and consistent cutting.

This square hole cutter has a handle to steady the saw during the cutting process. You can use it in a vertical or horizontal position and drill 90 degree square or rectangular holes. The center drill and 3 spirit levels allows you to locate and cut in an aligned level.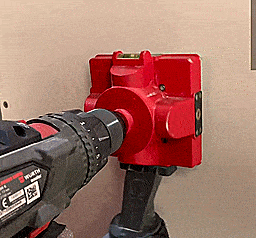 SPECIFICATION
Materials: Aluminum steel alloy
Dimension: 11.4 x 5.5 x 6.1 inches
Weight: 5.5 pounds
PACKAGE INCLUSION
Blade, blade guard, center drill bit