Relieve Eye Fatigue & Headache in Just Minutes
Forget about dry, blurry eyes and headaches caused by eye fatigue with this revolutionary Smart Electric Eye Massager. With all the time spent in front of the computer, TV and mobile phone screen, eye care should be a part of your wellbeing routine. 
Our Smart Electric Eye Massage uses safe air compression technology and adopts trigger point therapy and rhythmic percussion massaging to give your the gentle touch needed to relieve headaches, eyes strain, sleeping problems and stress. 
The built-in heating pads provide soothing adjustable temperature between 100 to 107˚F which helps to improve blood circulation around your eyes. which can reduce puffy eyes, dark circles, improve sleep quality and refresh your eyes instantly. 
Instant & Long Term Benefits:
Instantly Relieves Migraine & Headache 
Healthy and Fresh Eyes
Improved Sleep Quality
Relieve Stress and Anxiety

Reduce Eyebags and Dark Circle
Features: 
Intelligent Air Pressure and Vibration Massage. Our eye massager provides moderate air pressure & vibration strength. With 2 intensities available, it gives eyes acupoint massage to relieve eye fatigue, eye strains, dry eyes and headache.
Soothing Heat Treatment

. Comes with

soothing adjustable temperature between 100 to 107˚F

, this Smart Electric Eye Massager acts like a warm compress to help with common eye issues such as dry eyes, fatigue, and pain.
Built-in Bluetooth Speaker.

 Our eye therapy massager features built-in speakers inside and allows you to connect via Bluetooth to play your song list.

Improves Sleep Quality

. Through relaxing and targeted massage, it offers a calming experience that promotes sleep and helps you get a good night's rest.

180

˚ Foldable and Portable Design

. With the compact foldable design, you can easily carry it in your bag or backpack.
USB Rechargeable

. Comes with built in rechargeable battery and a single charge can last up to 14 days.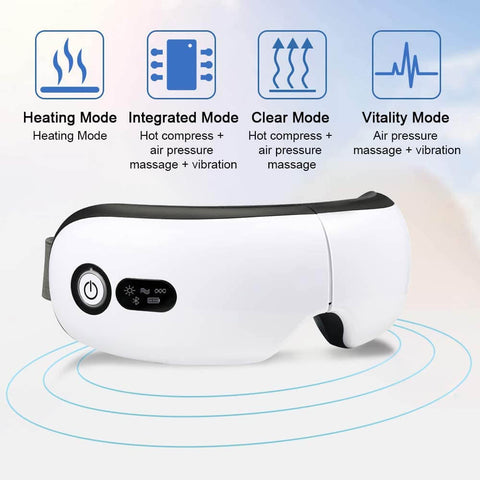 Who is this for?
Those who are in front of digital screens often
Those who do a lot of reading
Long distance drivers
People with sleeping issues/ insomnia
People with dry eyes
Product Specification:

Material: ABS and PU Leather

Color: White/Pink

Power Supply: USB Charging
Package Includes: 
1 x Smart Electric Eye Massager
1x Storage Pouch
1 x USB charging Cable