Lock in the fresh taste of your food easily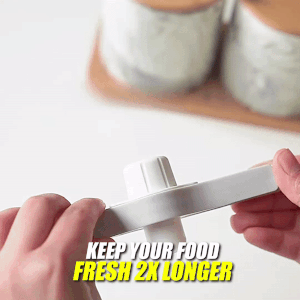 Lock in the fresh taste of your food 2x longer. Sealing Food Bag Clip features a clip that easily attaches to bags with an air-tight grip to keep food fresh. It has an easy-pour 0.7 inches nozzle in diameter, which allows you to control the amount of food to store in the bag. Ideal for storing cereal, pasta, chips, snacks, and candy.
HIGHLIGHT FEATURES
Keep your food fresh 2x longer.

Sealing Food Bag Clip is designed with a double gear bite design with a length of 13.7 cm to isolate air and water.

I

This 2-pc

 

set airtight seals to keep the freshness of your food. It prevents cross-taste from each other, ensuring the original taste of food.
Pour the snacks from the food bag easily.

The sealing clip features an easy-pour nozzle, 0.7 inches in diameter, which makes it quick and simple to pour the right amount of food out of the bag each time.
Made of food-grade material.  B

uilt with your safety in mind. It is made of food-grade PP, non-toxic, eco-friendly, and durable materials. Suitable for food preservation in all convenient bags such as cereal, pasta, chips, snacks, and candy, no more using twist ties just to seal your food bag.
Never worry about spilling any food anywhere.

Compact, lightweight, 

a space-saver in your storage space. L

ightweight and portable

and

 utilized in the kitchen, living room, office, dorm room, and even when traveling. 
Attach them to food bags easily.

No more worrying about deteriorating snacks. Simply cut a corner of the packaging bag for about 4.5 cm in length. Insert the spout into the package. Fix the discharge nozzle with the sealing clamp. Clamp the buckle of the sealing clip. Open the lid of the nozzle and you can easily pour out your favorite snacks. 
Product Specification:

Material: PP Plastic
Product Size: 13.7 cm x 5.2 cm
Product Weight: 80 g
Color: Gray + White
Package includes:
2 x Sealing Food Bag Clip