Tired of the hair scattered around from your pets or from yourself? Don't know which broom, brush, or mop you use for cleaning them?
Rubber Hair Dust Broom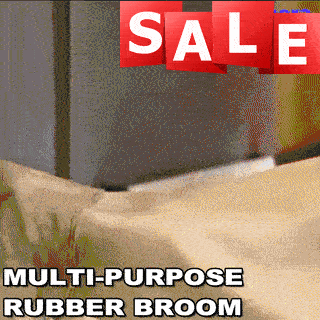 The Rubber Hair Dust Broom can replace all sweeping tools and let it do all the work.
With its rubber strands, you won't have to worry about hair and fur getting stuck on it. Put it together with a wiper at the end and even wet surfaces won't be a problem for you.
This Broom is perfect for everyday use. Washable to make sure you sweep clean everytime.
Cleans on rough surfaces due to its durable built. Cleans even on glass and fabric surfaces due to its rubber materials.

Don't just use it on your floor, use it on windows, your car, and your walls.
Specifications:

Color: Red, Orange, Yellow, Green, Blue

Sizes in Women's: 69 cm - 122cm x 32 cm x 4cm

Materials: Lightweight Polymer Plastic and Industrial Rubber Brush and Swiper
Package Include:

1 x Rubber Hair Dust Broom