Auto Black License Plate Cover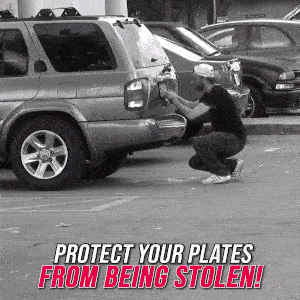 License plates can give enough data for someone's privacy without their consent, you can protect your license plate from possible damage or theft with ROLLER License Plate Frame Hider. You cannot use this while driving on the road but they're a perfect addition to cars you take to the track, car shows, and other events. With just a push of a button, you can hide your license plate immediately. 
HIGHLIGHT FEATURES
Premium Quality, Durable.

ROLLER License Plate Frame Hider is made of high-quality plastic and metal. This is constructed to be extremely durable and weatherproof, meaning that the electronics in your plate frames will not be damaged by rain or cold. This ensures long-lasting use. 
Won't deform and tarnish.

This is designed to be anti-rust, rainproof, weatherproof, and rattle-free. At 392°F, they won't melt, and at -76°F, they won't crack. They also don't bend or lose form when put under strain.
One button operation.

Using this will not be a struggle. You can activate this hider with just one push a button. You do not have to fumble through your car just to hide your license plate. 
Comes with remote control.

This features a wireless remote that allows you to control the plate frame and hide your license plate from a distance. 
Protects your license plate.

A license plate can give enough data about the owner without their consent. This will help protect your plates from theft and harm while also providing privacy. This is suitable for vehicles that go to the track, car shows, or those that spend a lot of time in storage. 
Product Specification:
Material: Plastic + Metal
Product size: 12.40 x 6.69 x 1.02 in
Suit for Plate Size: 12 x 6 in
Input Voltage: DC 12V
Control Distance: About 1,968. 50 in
Package includes: 
1 x ROLLER License Plate Frame Hider