Get creative with your favorite slushies in just a few minutes!
Enjoy the incredible feeling of a refreshing slushie in minutes. Quick-frozen Smoothie Slush Maker helps you to make healthy slushies, milkshakes, and fruit smoothies in as little as 7 minutes, right on your countertop. Pour your favorite beverage, squeeze it, you can taste the delicious smoothie. No ice, no blenders, no mess!
HIGHLIGHT FEATURES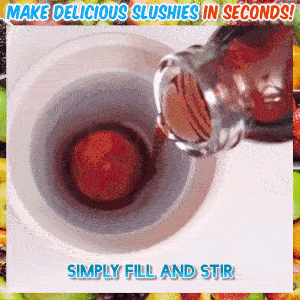 Rapid Freezing Technology.

Make healthy slushies in minutes. Quick-frozen Smoothie Slush Maker's fast freezing technology makes it simple to make your own slush in the kitchen. Simply freeze, fill, and squeeze to experience the refreshing fresh slush in a matter of seconds!
Compact and Portable.

Make your slush and consume it straight from the 8-ounce jar. The slushie maker has the size of a regular cup and requires no electricity to operate. Bring your slushie party anywhere you want. 
Transform cold drinks into slushies in minutes.

Freeze the inner core for at least 8 hours before removing it and placing it in the outer cup. Pour in your ingredients, stir with the supplied spoon, and watch as the slush freezes in before your eyes.
Personalize your own flavor.

Personalize and produce your own flavored drink with this slush maker. You can make yourself margaritas, fruit smoothies, sparkling water, or even homemade ice cream. Scrap it, slurp it, scoop it, and enjoy your own homemade slush!
Fun and Interactive for your family.

The slush maker is easy to use, engaging, bright, and even good for kids. Made entirely of BPA-free and non-toxic materials. Whether it's for breakfast, dessert, or a relaxing summertime snack, make yourself a flavorful slushie. 

Product Specification:

Material: Food Grade Plastic
Product Size: 16 x 10 x 9 cm
Product Weight: 550g
Color: Purple, Blue, Red, Green, Orange: 

Package includes:

1 x Quick-frozen Smoothie Slush Maker