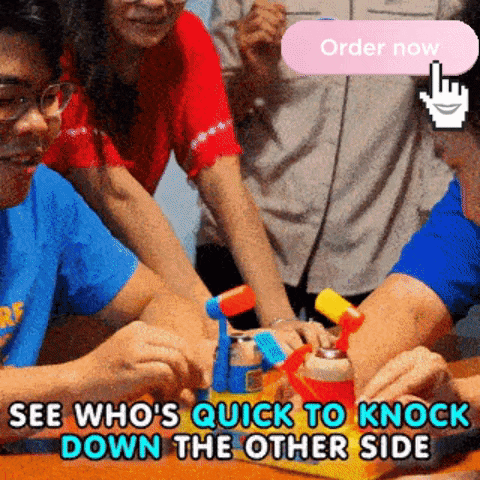 Fun and easy interactive game for kids and parents to play at home. PRS Play Double Head Board Game Toy us a fun offense and defense press game. It has a toy with simple game mechanics - hit and block. Whoever knocks the opponent's head is the winner. Increase quality time with your kids by playing this fun game.

FEATURES
Press and play interactive toy. PRS Play Double Head Board Game Toy has a single button for a touch-and-touch play. All you have to do is press the button to attack and bring up the shield to defend. Designed with fun cartoon heads, plastic hammer and shield. The heads are spring connected. The goal is to attack and make the head spring bounce to win.
Fun indoor family game. Not just for kids, adults can play this game as well. It's a great opportunity to have a parent-child quality time to enhance relationship, communication and interpersonal skills. Challenge your family members to a fun game of hit and block.
Safe for kids to play. Made from eco-friendly ABS plastic. It's safe, nontoxic. No sharp edges and corners and made of soft materials. No need to worry about leaving your kids to play this toy.
Set up the game anywhere at home. Easy to set up and doesn't take a lot of space. Measuring only 22.5x 16.5x6.5cm you can set the toy in your family room, table top, desk, floor or bed. It's a fun game to huddle everyone in one place. Perfect game for parties too.
Product Specification:
Material: ABS plastic
Product Size: 22.5x 16.5x6.5cm
Product Weight: 350.0g/12.35oz
Package Included:
1 x Double Head Board Game Toy