Get crisp and clean edges for every woodwork project!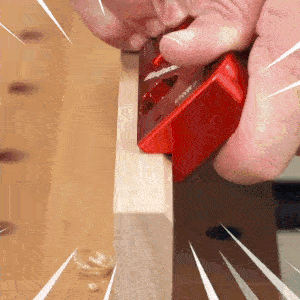 Do you want to smoothen the edge of your woodworking projects? Get crisp and clean edges for every woodwork project without having to change your tool. ProTool Woodworking Edge Corner Plane is a woodwork corner edge tool used for trimming down sharp corners and producing a chamfer or radiused profile. This makes quick work of edge a breeze without the need to change tools in your router or plugging in anything. Suitable for trimming and chamfering all kinds of wood.
HIGHLIGHT FEATURES
Adjustable depending on your need.

Accompanied with an adjustment knob that is made of stainless steel, this allows you to adjust your cutting depth. This also features a good pressure resistance which suits whatever pressure you need in your DIY project!
Provides clean and crisp corners with ease.

ProTool Woodworking Edge Corner Plane consists of horizontal and vertical bubbles, which helps provide accuracy of the level surface, for easy observation and leveling. 
Produces a radiused profile for a long time.

Came with a strong carbon blade which is sharp and unrelenting. The blade is also removable for sharpening. Using thick aluminum material which makes it strong for long-term use, never deformed. Made with premium materials, this is made to be resistant to rust and corrosion. This will be your perfect woodwork companion for a long time!
Portable and easy to operate.

With its portable size of 16 × 5 × 2cm, you can bring this anywhere with you. This fits in the palm of your hand and glides gracefully across the wood's surface. The tool is useful especially in planing a smooth level. 
Hassle-free assemble.

Sample construction, use hex nuts to fixed, easy to assemble, and disassembled. This will save your time and energy because you don't have to spend too much time building up this tool. 
Product Specification:
Material: Aluminum alloy + ABS plastic+ Carbon steel
Product Size: 16 × 5 × 2cm
Product Weight: 407 g
Color: Red, Black
Package includes: 
1 x ProTool Woodworking Edge Corner Plane