Ultimate Forearm & Upper Body Power Trainer
This Powerline Trainer amazingly effective yet lightweight and highly portable piece of equipment uses steel spring resistance to provide an extensive workout for both inner and outer forearms.
Simply grab and turn the twin resistance wheels for a total forearm workout!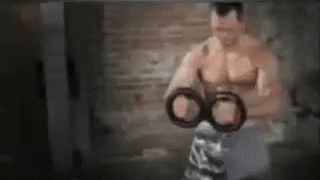 FEATURES
MULTIFUNCTIONAL


Helps you build lean, defined lower arms, strengthen the strength of the wrists, arms, and shoulders, develop strong flexors and larger extensors, hold more muscles, and reduce joint pressure.



ERGONOMIC & PATENT DESIGN
This arm-hand developer has received a number of patents for its appearance and technology. The humanized and stylish double-loop design not only reduce sports injuries effectively but also add charm to you!
FOAM HANDLE
Forearm strength trainer features red foam handles that are ultra-soft and provide maximum comfort.
EASY TO CARRY
It is lightweight and compact that can be put into the suitcase or backpack when you are on a trip.
MULTIPURPOSE
Suitable for any body types that focus to 

improve strength, power, and speed. Ideal for athletes, musicians, rock climbers, golfers, and tennis players.
SPECIFICATION
Material: ABS material, foam

Weight: 700g

Torsion: 20KG/ 44lbs

Maximum Rotation Angle: 135°

Dimension: 16.1" x 8.5" (41 x 21.5cm)
PACKAGE INCLUSION