Dissolve this in water and get a powerful solution to deep clean your home
Keep the mess to a minimum when cleaning the house. Powerful Deep Cleaning Soluble Floor Cleaner Slice is a concentrated solution condensed in a paper sheet that you can easily dissolve in water. It's a quick yet powerful solution that removes stubborn stains, dirt, grease and grime on the floor and other surfaces. Clean and leave them streak-free, germ-free and deodorize as you clean. No more measuring, no more harsh liquid solutions. Suitable for cleaning hardwood, tiles, vinyl, marble, laminated, and plastics. 
HIGHLIGHT FEATURES
Concentrated powerful solution in a sheet.

Tired of stubborn dirt on the floor? Get rid of it quick and easy by using Powerful Deep Cleaning Soluble Floor Cleaner Slice. This concentrated solution is condensed in a soluble paper sheet that you put and dissolve in the water in just a few seconds. Use it to mop the floors or wipe and disinfect different surfaces.  
Multipurpose cleaning solution.

This soluble cleaning paper dissolves and turns into a well-measured solution that easily removes stubborn dirt, grease, grime and footprints on the floor. Perfect for quick and deep cleaning for a streak-free and germ-free surface while leaving it gleaming clean. It's a powerful cleaning solution for floors yet non-corrosive to use for wiping electronics, windows, and in electric cleaners. Deep cleaning while leaving your home smelling fresh.  
Workable on different floor surfaces.

1 sheet is good for 3 liters of water that's perfect for all your cleaning needs. A powerful cleaning solution that's tough on dirt but gentle enough on different surfaces including tiles, laminated, hardwood, vinyl , bamboo, compound floor, ceramic, and marble. Made with biodegradable enzyme and surfactant that helps moisturize your hardwood while giving it a long lasting effect to prevent aging and cracking.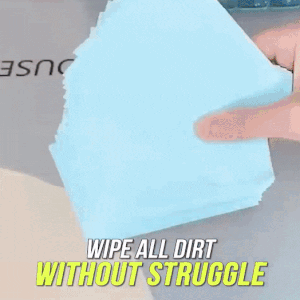 Compact and easy to use.

Easy to use and easy to store. Each sheet works for up to 3 liters making it easier and eliminates the need to measure cleaning solutions. Safe and environment friendly, nontoxic and effective in cleaning.  Better than most liquid cleaning solutions. 
Product Specification:
Material: biodegradable enzymes, surfactants 
Product Size: 11x7cm
Color: blue 
Package Included:
1 x pack, 36pcs Soluble Paper Cleaner