Make tornado potatoes using this tool tool in just a minute
Love the spiral potato chips from the market? You can now make it on your own at home using this super easy Potato Spiral Tornado Cutter. Slice potatoes in a unique twisted and spiral pattern with ease and within a minute. It's the simplest way to cut potatoes in your favorite swirl style and deep fry for a snack. Made of sturdy stainless steel, it's durable and easily goes through most vegetables like potatoes, yams, carrots, radish, cucumber, zucchini and more to enjoy spiral cuts. 
HIGHLIGHT FEATURES
Make your own potato spiral chips at home.

Fun and uniquely cut potatoes in spirals using this Potato Spiral Tornado Cutter. It's a great way to make more fun potato spuds and potato snacks for kids and your family.  Easy, fast, and fun to use tool for making more enjoyable potato chips.
A Must- have kitchen tool for anyone who loves potatoes.

Make wonderful potato and yam chips on a stick. Impress and excite your family and guests with their favorite potato chips with a twist! It's a super handy and easy to use tool. Simply insert the stainless stick into the middle of the potato, and start doing a circular movement using the slicer to start making spiral cuts. 
Cut vegetables in unique spiral cuts for a twist.

  Not only made for potatoes, but also can be used for a number of vegetables you can slice in spiral including yams, carrots, radish, zucchini and more.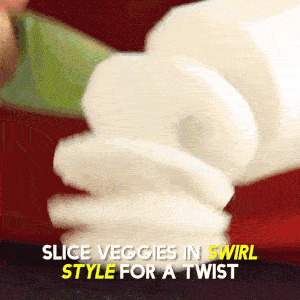 How to make spiral cuts: 
Insert the spiral cutter to the tip of the stainless stick. 

Insert your potato until it reaches the spiral cutter. 

Insert the handle lid and secure the potato in place on the other end

Insert your finger in the handle of the cutter and start moving in circular motion to start cutting the potatoes.

Once done, remove the lid and potato. Viola! You now have a spiral potato cut!
Product Specification:
Material: plastic, stainless steel 
Product Size: 11.1 x 5.7 x 1.3 inches
Product Weight: 113 grams
Color: yellow
Package Included:
1 x set spiral potato cutter