Offers 360° degree sterilization
Nothing is more frustrating when you smell foul odor inside your refrigerator even after you clean it. It might be the bacterias or germs. Portable Ozone Fridge Sterilizer is designed to kill bacterias that flourish at cold temperatures. The sterilizer keeps your fridge free of odors and food spoilage, saving you from food poisoning and other stomach problems associated with eating old food. 
HIGHLIGHT FEATURES
Ultimate Fridge Sterilizer.

With Portable Ozone Fridge Sterilizer, 99.7% of bacteria living in the refrigerator can be removed using a skilled sterilization test. This removes bacteria that cause foul odors, food spoilage and can lead to gastrointestinal ailments, food poisoning, and even types of stomach cancer.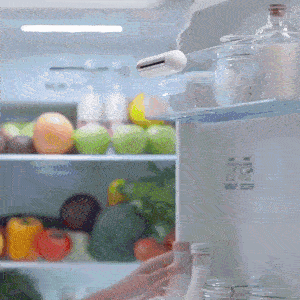 Improves Food Freshness.

Many fruits, such as bananas and apples, release ethylene gas as they ripen, hastening the ripening process. This sterilizer produces enough reactive oxygen, which is very effective in removing ethylene through a chemical reaction, thereby extending the storage life of many fruits and vegetables. This eliminates the worry of getting rotten fruits when you open your refrigerator.
Designed to be reusable.

Unlike the bamboo or charcoal that you use, this sterilizer can last for many years. This is made to be reusable and you do not have to worry about replacing it with consumables. 
Freshen up any space.

This doesn't just work for refrigerators but you can also use this for many enclosed spaces like shoes closet, car, pet box, toilet, moist cupboard, and so on. Its compact size will take a small space. You can place or hang it anywhere
Dual Mode Disinfection.

This fridge sterilizer features two modes - Mode 1: Double-click the switch for deep deodorization and disinfection and also Mode 2: Long press for 2 seconds to keep fresh and deodorize. This helps prolong the freshness of food and prevents the deterioration of food materials due to improper storage. 

Product Specification:

Material: PC + ABS
Product Size: 115 x 115 x 43mm/ 4.5 x 4.5 x 1.7 inches
Product Weight: 70 g
Color: White

Package includes:

1 x Portable Ozone Fridge Sterilizer