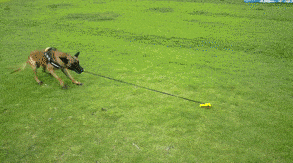 Have fun with your dog outdoors and spend your time playing fetch or tug of war. Our Portable Outdoor Dog Peg Toy is multifunctional and the perfect toy and support for taking care of your pet outdoors. It's a set of molar ball, tie-out peg and elastic ropes. Play games, keep dogs active and secure them with the peg to keep them from running away. 
FEATURES
Play tug of war outdoors.

Release your dog's pent up energy and physical discomfort by letting it play tug of war outdoors. All you have to do is attach the molar ball to the polyester elastic rope and secure it with the tie-out peg. Your pet will surely enjoy pulling the ball as far as it goes.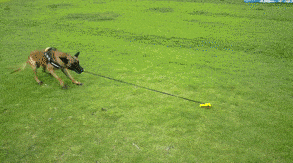 Play fetch!

Another fun way to do obedience training is by playing fetch. Take the ball and throw it and let your dog fetch it. It's a great exercise for both you and your pet dog. Made for all types of dogs sizes and breeds. 
Don't lose your pet.

Scared your dog might run away? Secure the leash by attaching it to the buckled nylon resistant pull rope and peg. Made from non toxic and environment friendly ABS material, it has a spiral design and flat-end design for fast and easy sticking it to the ground. 
Maintain good oral health.

The molar ball is not just some toy. It also serves as a cleaning toothbrush for your pet. Made from tear-resistant and TPR material. It's soft and doesn't hurt your pet's gums. It also removes tartar and plaques that causes teeth problems.
Product Specifications:

Materials: Polyester, ABS, TPR, Stainless steel

Tie-out peg: 

4.7 inch x 1.3 inch x 10.2 inch
Package Included:
1 x molar ball

1 x tie-out peg

1 x elastic rope (polyester)

1 x bite resistant rope (nylon)