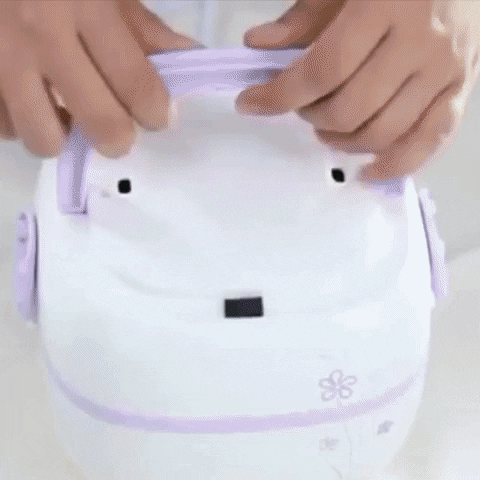 Cook or heat your food anytime, anywhere with a Portable Electric Lunch Box Cooker. Now you can always have fresh cooked and hot food served during your meal breaks. No more cold, stale food. No more looking for a microwave oven.

Reheat or keep food warm without a microwave.
Not every office or school has a microwave oven. The days of eating cold packed lunches are over. Portable Electric Lunch Box Cooker is capable of cooking, heating and steaming your food from rice, fish, vegetables or any leftover food you packed.
Fresh food on the go.
Portable and easy to use. You can practically carry it anywhere. Bring it to school, workplace, picnic or even during your trips and always eat freshly cooked or warm food.
Portable bento box.
Cook multiple dishes in one go. Portable Electric Lunch Box Cooker has stacked containers for different food. It has a set of stainless bowls, measuring cup and a power cord. Snap lids are convenient and secures the lunch box while cooking.
Automatic cooker.
Cook your food in less than 10-20 minutes by simply pushing a button. It cooks automatically and switches off once done making it power efficient. Voltage 110V Capacity and 1.5L water for cooking and steaming.
SPECIFICATION
Materials: Stainless steel, food grade PP
Color: Blue, Orange, Black, Pink
Sizes: 23x18cm (9"x7")
Capacity: 1.1 - 1.7L
PACKAGE INCLUSION
1x Portable Electric Cooking Lunch Box
1x Spoon
1x Power Cord
1x Manual