Pool Leaf Vacuum is the fast and easy way to clear out leaves and debris in the bottom of the swimming pool. Prevents leaves from clogging the pool's filtration system. Perfect for quick pool cleanups in this swimming season.

BENEFITS
Fast and complete cleaning.
Pool leaf vacuum removes a large number of leaves, dirt, and debris from the pool bottom. It has bottom bristles that brush the dirt off the floor leaving only a clean pool ready for swimming.
Cleans in all directions.
The 3 directional wheels allow easy navigation and maneuvering around the pool area with ease. No need to move around the pool while cleaning.
Lightweight and easy to use.
Incredibly lightweight to carry around and easy to use. It uses water to clean and lift off the leaves from the bottom. The quick-disconnect adapter fits any standard or regular sized garden hose. No special equipment needed.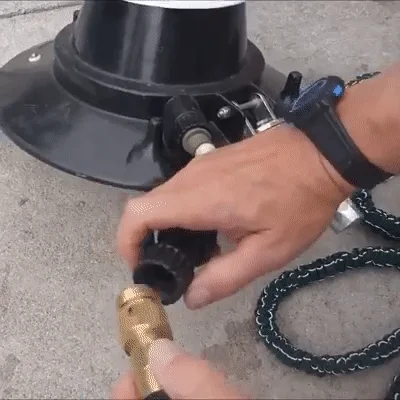 Large capacity mesh bag.
Reusable and washable mesh bag that nicely fits on the 15" diameter opening of the Pool Leaf Vacuum. It collects and filters leaves, debris, dirt, and even tiny bugs and prevents them from clogging the pool's filter.
SPECIFICATION
Size: 16.6 * 15.3 * 6.7 inch (Approx)
PACKAGE INCLUSION
1 set Pool Leaf Vacuum Kit