Immediate plastic fixer that fits your pocket
Fix or modify things quickly in emergency situations. Pocket-sized Moldable Plastic Card is a very versatile and meltable material that is used to quickly construct new objects or mend broken plastic things. Made of durable and non-toxic bioplastic. It has a size of 10 x 3 x 0.2 cm, insert it in your wallet easily. Always be ready to fix anything especially if it's an emergency. 
HIGHLIGHT FEATURES
Heat-reactive card.

Pocket-sized Moldable Plastic card is designed to be soluble in water. It is a strong plastic card that becomes soft, pliable, and moldable when heated with hot water. It is ready to become anything you need it to be as soon as it is heated.
Re-melt it to reuse it.

If you made something but you don't like the way it looks, this plastic card is reusable. Simply re-melt it and then use it again on something else. Create all types of art, hobbies, prototypes, props, modeling, etc.
Play with your own creativity.

When the cards are hot and sticky, stick to some other plastics. So, if you take them out of a cup of hot water right away, you can use them to repair broken plastic toys, mounts, stands, knobs, dials, or fix anything else that would typically be thrown away.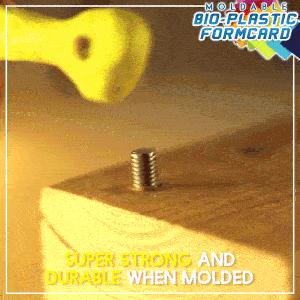 Durable and Non-toxic.

The plastic card is a modeling substance that softens when heated to 150 degrees Fahrenheit and solidifies at normal room temperature. It is made of bioplastic. The 10 x 3 x 0.2 cm card acts like clay when warm but cools to a strong plastic. It fits perfectly inside your wallet. Bring it anywhere you go. 

Product Specification:

Material: Based Bioplastic
Product Size: 10 x 3 x 0.2 cm
Product Weight: 50 g/per card
Color: Random

Package includes:
1 x Pocket-sized Moldable Plastic Card