Pet smelling kibbles mat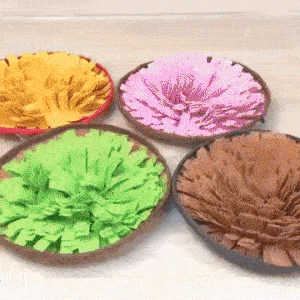 Does your dog turn into a vacuum at mealtime, sucking up all his foods in seconds? Or maybe he eats treats in a single swallow without taking the time to enjoy them. These habits are not good for their digestive health. Train your pets to eat slower! It is best to provide them with PetCARE Dog Sniffing Mat. This mat hides treats and kibbles inside, making mealtime last up to 10 times longer.
HIGHLIGHT FEATURES
Dog Training Tool:

Unique dog training mat that allows your dog to find snacks or small toys hidden in the mat. Studies have shown that sniffing for 10 minutes is equivalent to a dog running for an hour. This enables you to train your dog's smell, consume your dog's energy, and help them lose weight. Keep your dog busy and avoid them from being bored and engaged in destructive behavior. A new treat game that they will surely enjoy. 
Good for Overall Health:

This mat can train dogs to eat slower. The bad habit of eating fast can lead to indigestion and even susceptibility to illness. Scent training with this sniffing mat consumes more energy than expected. This dog snuffle mat allows your loved dog to forage for the food through the maze and slow down the speed of eating. Provide them mental/physical exercise as they release energy and relieve stress.
Portable and Non-slip Design:

The bottom of the mat is made of non-slip cloth that effectively holds it in place thus preventing dogs from moving it anywhere else. This mat can be folded into the shape of a bowl for you to keep it in your bag for those journeys with your beloved pals. Hung or set aside when not in use.
Easy Care Mat:

The main material of this sniffing mat is felt cloth which is environmentally friendly and easy to clean. You'll never have to worry about the health of your dog. This sniffing mat is also machine washable. It is advisable to wash this PetCARE Dog Sniffing Mat at least once a week.
Product Specifications:
Material:Felt, Oxford fabric on bottom
Color:Pink/ Yellow/ Green / Brown
Size: Determined by loosening or tightening the tie by yourself
Storage: 26 x26 x 13cm

Bowl: 30 x 30 x 10cm

Mat: 48 x 48 x 8cm
Package Included:
1 x PetCARE Dog Sniffing Mat