Get rid of your permanent tattoo without laser and hundreds spent at the dermatologist for back to back to back visits when you start using this Permanent Tattoo Removal Cream! The active ingredient is non-toxic. It's 100% safe to use externally - even on eyebrow tattoos.

FEATURES
It's painless! - It permeates into the epidermis to breakdown the ink and fades out your unwanted tattoo over time. Won't block your pores.
No scarring! - It helps with skin regeneration while it fades out your tattoo. There will be no marks of your tattoo being there at all in the first place.
Easy to use and effective - All you need to do is to apply it on the tattoo and cover it with a cling wrap. Use consistently for faster results. Results will vary.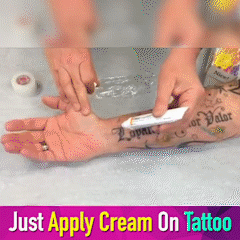 How to use:
Wash area with soap and water
Pat dry with a clean cloth
Put over a warm towel for a few minutes for the skin to absorb cream faster
Apply the cream directly on the tattoo using a cotton swab. Spread evenly until fully absorbed
Cover with cling wrap. Leave overnight.
Specifications:
Tube size: 13 cm x 3.5 cm
Weight: 20g
Package includes:
1 x Permanent Tattoo Remover Cream
Tap BUY NOW to order your Permanent Tattoo Remover Cream TODAY!