The Burning Scorch Pen Marker is a unique way to create a pyrography effect on wood, card and even paper. Use the Scorch Marker to write or draw your design as you would with a normal pen. The 'ink' in this case is a chemical, which reacts with the wood when heated.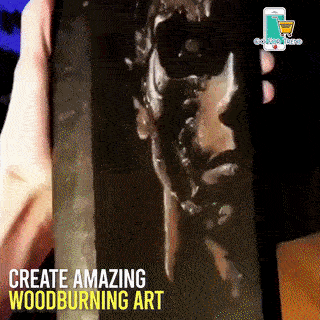 FEATURES
✍ Revolutionary Innovation ✏ The Scorch Pen Marker is a revolutionary, new way to complete wood burning projects, patented formula allows you to create the perfect design in minutes.

✍

Easy to Use

✏ Create a perfect wood burning pattern in just three steps. Sand to at least 220 grit and clean the surface and several times to saturate the nib by pressing on a paper tower; Draw your favorite pattern; Heat with a heat gun until the desired effect is achieved.

✍ Safe and Fast ✏ Pyrography marker pen uses a safe pen shape, the ink formula is safe and non-toxic, it is very convenient to use, and you don't have to worry about it being hot like a soldering iron burning tool.
✍ Perfect Substitute ✏ Wood burned marker pen instead of the wood burning soldering iron tool. It's quick and easy to cover large areas, the effect that it creates on wood is almost like a charcoal drawing on paper.

✍ Quality ✏ No expense was spared in making this the best quality wood burner pen. Prefect gift for family and friends.

SPECIFICATION
Chisel Tip: 3mm
Weight: 0.64 oz
PACKAGE INCLUSION
Burning Scorch Pen Marker for Woodworks