Create grid patterns perfect for pies and cakes in seconds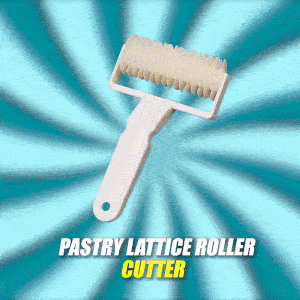 No more measuring and cutting strips and weaving them together to create the perfect lattice cover. One roll on your dough using this Pastry Lattice Roller Cutter makes the perfect fishnet cover for your pastry and other recipes. Instantly make an attractive cover for your pies, tarts, cookies, pizza and other pastries. Save your time and effort folding and crisscrossing doughs. Level up your baking skills using this simple kitchen tool
HIGHLIGHT FEATURES
Quick and easy lattice crust.

Make a beautiful lattice pattern for your recipes in under a minute. Use Pastry Lattice Roller Cutter and roll it on your dough to create an even and perfectly measured fishnet pattern for your pastry covering. Simple and fast baking tool you can use for your pies, tarts, pizza, cookies, breads, pastries and other recipes.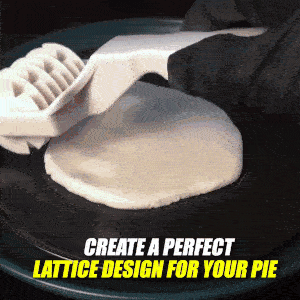 No more doing lattice covers from scratch.

Eliminate the need to measure and cut strips of doughs to weave them into a lattice cover. Do it in seconds using this tool. No more poking holes in your pizza with a fork, or make cracker patterns using tin cans. Make baking faster and easier. Level up your home baking skills like a pro 
Simple tool for classic pastry cover.

A must-have baking tool for home bakers, pastry chefs, pizza makers, or anyone who loves to bake pies and pastries. This tool helps you create that classic pie cover but without the hassle. One roll on your dough is all it takes to make a perfect decorative lattice cover for your recipes.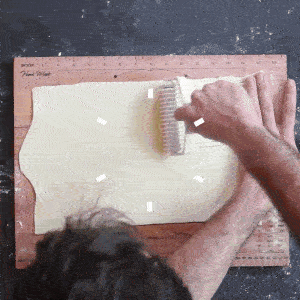 Hassle-free, press and roll tool.

Durable and high quality plastic mesh cutter is safe, nontoxic and durable to use on different pastry doughs. Simply press and roll this cutter over your flat dough to instantly create a symmetrical lattice cover for your pastries. Easy as pie!
Product Specification:
Material: food-grade plastic
Product Size: 

large: 19.5 × 12 cm 
medium: 17.5 × 9 cm 
small: 19.5 × 6.5 cm
Product Weight: 80 grams
Color: white
Package Included:
1 x Pastry Lattice Roller Cutter