Double-size camping bed for couples on their outdoor adventures
Outdoor chilling nights is not a problem. Cuddle inside this Outdoor Camping Double Person Sleeping Bag to stay warm and cozy while enjoying your night in the outdoors. Practical, convenient and a roomy sleeping space that fits 2 adults inside. It also comes with pillows for a comfortable sleep. Insulated and made of 190T polyester fabric and high density hollow cotton to retain heat. Suitable for low temperature outdoors sleep.
HIGHLIGHT FEATURES
Warm and cozy sleeping.

Enjoy a warm and comfortable sleep even when outdoors in this Outdoor Camping Double Person Sleeping Bag. Wide-sized and easy to convert from a duffel bag into a 2-person camping bed, complete with blanket. Soft, and breathable material for a comfortable night outside. Insulated, waterproof, and designed to lock in heat to keep you warm while sleeping but without making you feel sweaty.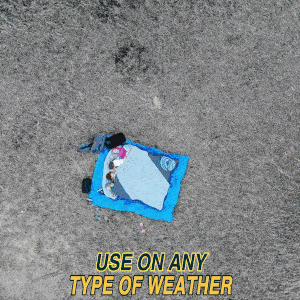 Couple camping bed for tent cuddle time.

From a 40 x 28 cm sleeping bag, open and expand it into a 145 x 30 x 190 cm outdoor bed. It's a roomy camping bed that can fit 2 adults inside. Made of 190T Polyester material and polyester fleece lining, it locks heat and is suitable for -10℃ ~15℃ temperature. Perfect for tent cuddle time or enjoy the starry night in the open area with your partner in the same sleeping bag.. 
Splittable camping bed for friends

. One carry bag and one double outdoor bed that you can split into two separate beds and blankets.Perfect for friends who don't want to share the same bed and want more mobility when sleeping. Splittable to 220cm and 190cm beds and blankets. Simply detach the velcro buckles and unzip to split beds.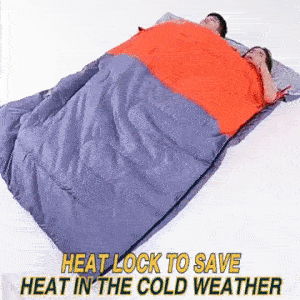 Adjustable temperature and space.

Designed with flexible and breathable foot zippers to give your feet more room to stretch. The elastic cord also allows you to adjust the temperature in each bed. Easy to unfold and easy to store as well. Perfect for any outdoor adventures and travels like camping, mountain climbing, hiking, fishing, and more. 
Product Specification:
Material: 190T polyester, polyester fleece
Product Size: 15.7 x 11 inches / 57 x 11.8 x 74.8 inches
Product Weight: 4.85 pounds
Suitable temperature: -50°F

 

~59°F
Color: Blue Gray 
Package Included:
1 x double-sized sleeping bag