Are your bunions hurting or noticed that your toes are not in shape?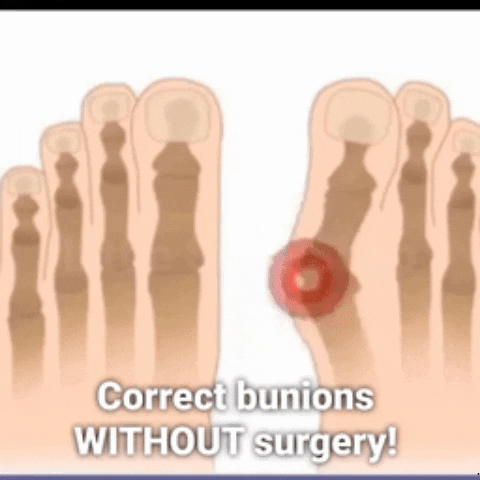 We know the pain that bunions cause. If your bunions aren't treated correctly, they can lead to further health issues. Some common health issues that result from untreated bunions are arthritis, bursitis, hammertoe, and metatarsalgia.
Don't accept low quality of life with severe bunion pain. Introducing our Orthopedic Bunion Corrector Sleeves , that can relieve the pain and helps to gently realign your bunions without surgery. These sleeves are ideal for anyone who suffers from bunions, toe drifting, and/or toe-overlap. They are perfect for walkers, runners, cyclists, and all alike!
Simply put on our Bunion Corrector Sleeves, align the toe separator, and enjoy your everyday life with all-day-long comfortable relief!
Highlight Features:
Targeted relief: Our bunion sleeve has a super soft low profile gel pad (orthotic pads) positioned exactly over the 1st metatarsophalangeal (MTP) joint, which is where bunion comes from, hence providing relief at the site of your pain.
Comes with gel toe separators design: Made from 100% PU GEL; transparent, high elastic, non-toxic, ultra-soft, non-allergic raw materials to help reduce the daily discomfort of bunion and hammertoe pain and give feet night support. This also gently helps to realign toes to their natural position.
Practical design for everyday wear: Wear it around the house during normal daily activities or in bed while asleep as a bunion night sleeve. They slip onto the foot like a sock and can even be worn in socks, shoes, and orthotics all day for maximum comfort and bunion correction. 
Maximum comfort and washable: These bunion correcting sleeves are made of high quality elastic cloth fabric , so they comfortable to wear, reusable and hand washable.

Painful to Painless within weeks:

Wear 

these sleeves daily for immediate relief after a long day and they 

will effectively ease pain and relieve pressure on your feet. Feel the difference within weeks of daily usage. 
 Note:
In the beginning, wear them daily for 20 minutes and slowly increase the duration by 5 minutes, until you get used to it the pressure.
Once you got used to the pressure and feel comfortable with them, you can wear them the whole day.
Be gentle and take it slowly.
Size Guide:
| | | |
| --- | --- | --- |
| Product Size | US Shoe Size | EU Shoe Size |
| Small | 5 - 8.5 | 35 - 39 |
| Large | 9 - 12 | 40 - 45 |
Package includes:
1 pair Orthopedic Bunion Corrector Sleeves
*Disclaimer: There's no guarantee of specific results and that the results can vary