Say goodbye to wasteful oil blotting sheets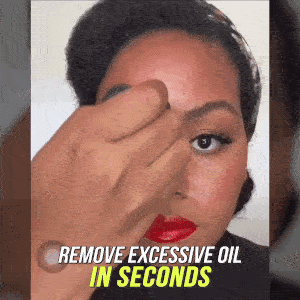 Get rid of your oily face in seconds and let it last for hours. Say goodbye to wasteful blotting sheets and use this Oil Control Volcanic Face Roller. This new skincare tool is getting the raves for its effectiveness, portability, and functionality as a very sustainable solution to oil control. The volcanic stone removes the excess oil from the skin and then leaves a matted slip on your skin to keep it free from oil for hours.
HIGHLIGHT FEATURES
Remove excessive oil on your face naturally.

Smoothly glide this Oil Control Volcanic Face Rolleron your T-zone to remove excessive oil. The volcanic stone prevents your skin from getting that shiny look due to oil by leaving matted slip on your skin as you roll. It instantly removes oil and leaves it shine-free for hours.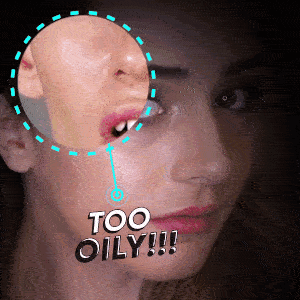 Sustainable skincare tool.

Stop being wasteful and switch on this reusable and sustainable facial care tool. No more wasting of blotting sheets that's only effective for a few minutes. The volcanic stone roller takes excess oil without removing your makeup. So you look fresh and oil-free for the rest of the day. It's reusable and washable which makes it a very sustainable replacement to expensive blotting sheets as a skincare tool. 
A new stable in your beauty bag.

Portable skincare tool at 3.15 x 1.18 x 0.47 inches size making it easy to insert in your beauty purse or bag. Getting tired of applying powder and taking blotting sheets every now and then? This volcanic roller easily cleans oil by absorbing it fast while leaving your skin soft and matte. You can easily bring this in the gym, office, party or when out and about. It's an effective and effective beauty tool to keep in your purse.  
Improve your facial skin condition.

Not only does it keep your face shine-free from oil, it also serves as a gentle massage to your face to remove puffiness. The 360-degree stone roller  helps improve blood circulation and improve your skin condition. It's your on-the-go facial tool. 
Product Specification:
Material: volcanic stone, ABS plastic
Product Size:  3.15 x 1.18 x 0.47 inches
Product Weight: 23 grams
Color: pink, blue, black
Package Included:
1 x volcanic stone roller