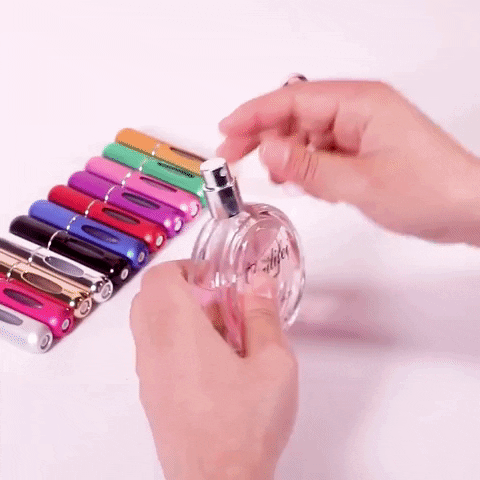 Stay fragrant and fresh the whole day by spritzing yourself with your favorite scent in OhMy Mini Refillable Perfume Atomizer Bottle. It's a compact and portable spray bottle that you can easily refill using its pump-to-fill mechanism. Perfect size for traveling or to just stash in your handbag.

FEATURES
Refill without spills. OhMy Mini Refillable Perfume Atomizer Bottle is not like any other refillable spray bottles. It has a pump-to-fill technology that allows you to refill the bottle without any spills in seconds! Refill up to 5ml/8ml of liquid.
Track how much is left. Features a clear visual window to monitor the volume of the content. It allows you to pump just the right amount of what you need or when it is time to get a refill. Fill it with your favorite perfume, color, sanitizer, alcohol and other liquids.
Handy size and lightweight. About 106 x17.5mm in size. It's practically light and small like lipstick. You can bring it anywhere and easily stash it in your pocket, handbag, or suitcase when you're for a trip, hang out with your friends or attend an event. You can always spray your favorite perfume and keep smelling good the entire day.
Leakproof and travel friendly. Leak-proof and guaranteed no spills during refills. Made of durable plastic and aluminum so it doesn't break easily. Plus, you can always choose your favorite color for the bottle.
Product Specification:
Material: Plastic and Aluminum
Product Size: 5ml 80mx16.5mm/ 8ml: 106x17.5mm
Capacity: 5ml/8ml
Package Included:
1 x Mini Refillable Perfume Atomizer Bottle