Ladder rope to unstuck vehicles!
Rescue your vehicle out from getting stuck off road by using the Off Road Vehicle Recovery Kit. This innovative tow rope can turn your tires into winches. Simple yet effective rope to unstuck your vehicle from sand, mud, snow and more.
BENEFITS
AS SIMPLE AS HARNESS AND SPIN
Off Road Vehicle Recovery Kit is a synthetic winch rope used by harnessing it over the tire and pulling the car out as the torque increases. It uses the vehicle's engine power to get out of the stuck. It works backwards and forwards.
 Powerful and strain tested. It can pull and withstand up to 3.5 tons of force at 4.2 meters.  It's more than enough strength to pull any vehicle out of most situations. Using two of these rope ladders on different tires increases its strength to 7 tons.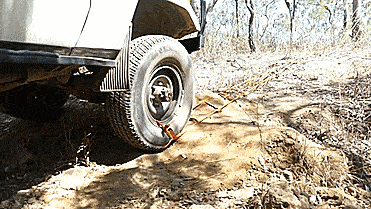 Handy, lightweight and very portable. You can bring it in your emergency car kit without taking so much space. Just chuck it under your seat and take it out when needed. It also doubles as tow rope.. 

WORKS ON MOST TYPE OF VEHICLE
It fits many car tires and 4X4's. This recovery rope is essential equipment on offroad trips and driving for cars and trucks. No worries when you're stuck in the mud, sand or snow; you only need Off Road Vehicle Recovery Kit and a strong anchor..
SPECIFICATION
Product Dimensions: 177.17 x 14.57 x 0.39 inches
Item Weight: 4.84 pounds
PACKAGE INCLUSION
1 Pack x Off Road Vehicle Recovery Kit
Tap BUY NOW to order your Off Road Vehicle Recovery Kit TODAY!