Grow your favorite plants without the need for a huge space
Water all your plants in one go. Multilayer Stackable Planting Pot features stackable plastic pots that are ideal for herbs, small greens, flowers, or even tomatoes. It comes with a self-watering system that allows all plants to get the necessary amount of water after watering them in one go. Each layer has a width of 38 cm and a height of 17 cm, it holds up to 15 plants comfortably. Build an organized garden vertically to maximize your small space. 
HIGHLIGHT FEATURES
Patented Flow Through Design.

Multilayer Stackable Planting Pot is equipped with a self-watering system. It allows you to water the top of the stack and have water equally distributed to all of your plants.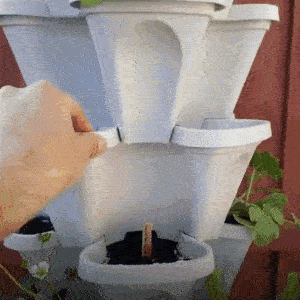 Build your own garden vertically.

Each stackable pot is 38 cm wide and has a height of 17 cm. The planting set includes 5 stackable pots that give your plants enough growing area. Make the best use of a small space by growing your plants vertically.
Wheeled Bottom Tray.

The set comes with a handy bottom tray with four wheels that is heavy-duty and durable. It allows you to easily transport your potted plants wherever you like. The raised rim construction will store excess water and soil, ensuring that the floor remains clean throughout the day.
Gardening has never been this easy.

Ideal for a great starter set to plant, stack, and enjoy your mini garden. Designed for all ages or skill levels, this is easy to set up and maintain which makes gardening fun.
Durable and Weather-resistant.

These reusable elevated planters are made of heavy-duty polypropylene plastic. It is crack resistant to withstand hot summer days and rainy weather. Ideal for use on decks, patios, and porches.
Product Specification:
Material: PP
Product Size: 38 cm x 17 cm
Product Weight:
(confirming with the supplier)
Color: Blue, Pink, Purple, Yellow, White, Green
Package includes:
5 pcs x Multilayer Stackable Planting Pot