Dispose of kitchen scraps with little to no noise.
No more jams and clogs in the pipes and sink. Upgrade your kitchen by installing MultiGrind Compact Continuous Feed Garbage Disposal. Tackle everyday and common food waste with powerful, compact and energy-efficient high-speed motors that offer cutting edge technology and multigrind capabilities. Powerful grinder with low to almost no-noise operation. Easy to install and mount, it's the perfect addition for a small kitchen.
HIGHLIGHT FEATURES
Kitchen sink game changer.

Prevent blockage and jams in your kitchen sink pipes and drainage by installing this MultiGrind Compact Continuous Feed Garbage Disposal. Manage and dispose of common forms of kitchen food waste without the hassle. Grind food wastes such as fruit and vegetable peels, chicken and fish bones and more at 3/4-HP. It's an upgrade you never thought you'd need. 
Powerful yet quiet operation.

Featuring a SoundSeal technology, this garbage feeder grinder operates more quietly and smoothly than most standard disposers. It has an induction motor running at 1725 RPM designed and engineered to provide quiet operation and long service life.  
Suitable for small household kitchens

. This garbage disposer is ideal for small households or homes with limited under sink cabinet space. It's compact and a space-saver that can be easily mounted and leaves more room under your sink. It's 8 x 8.75 x 12.63 inches and has a 34.6 oz chamber capacity. It's a continuous feed but also features a shutdown button in case there is an event of a rare jam.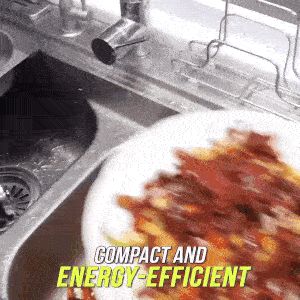 Keep food waste off the landfill.

Improve your kitchen's efficiency and choose an eco-friendly way. By using a garbage disposer, not only do you keep food waste off the landfill, but you can make something out of the food waste of better use such as fertilizer or compost pit. It's also safe for septic systems.
Product Specification:
Material: stainless steel, plastic
Product Size: 8 x 8.75 x 12.63
Product Weight: 34.6 oz
Color: gray
Technical specifications: 
Disposal Feed: Continuous feed
Disposal Horsepower:  3/4-HP
Grind Stage: 2-stage:
Voltage (Volts): 120
Amperage (Amps): 8.1
Grinding Speed (RPM): 1725
Package Included:
1 x Compact Continuous Feed Garbage Disposal