Find your clothes easily while keeping the closet organized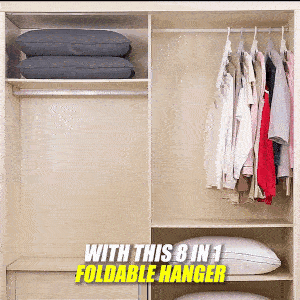 No more bulky closet and boxed clothes. Organize your wardrobe and hang them properly. Multifunctional Eight-In-One Foldable Hanger is a multi-layer and rotating hanger that helps you free up space and store more clothes in a small space.  Non-slip, durable and space-saving. Organize your shirts, trousers, scarves, dress shirts and more. One hanger has 8 slots for clothes.
HIGHLIGHT FEATURES
Space-saving closet solution.

  Not enough space in your closet? Free up more space to store some more by using a Multifunctional Eight-In-One Foldable Hanger. This simple solution allows you to hang more clothes in limited closet space. Designed with 8 slots in 1, you are able to organize your clothes better and maximize the space from top to bottom.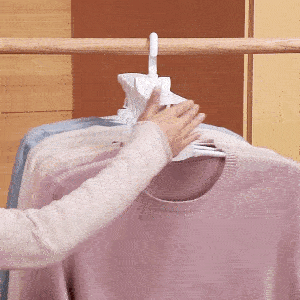 Rotatable organizer.

No need to rummage your closet. Find your clothes easily while keeping the closet organized. Designed to be flexible for all storage needs. 360-degrees rotatable and has good load bearing. Arrange your clothes horizontally, fan-style, vertically or cascading to save space. The hangers are also non-slip and detachable. Perfect for organizing and storing different types of clothes. 
Multi-use and convenient foldable hanger

.  Not only can it be used to organize your closet, this hanger is also multipurpose. You can use this to store out-of -season clothes, prepare your outfit for the day or week and also, use it as a drying rack to hang and dry clothes naturally, whether indoor or outdoor.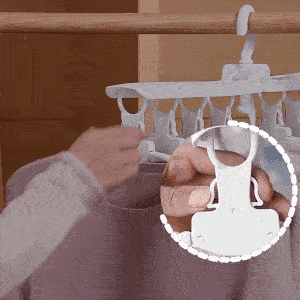 Study and compact.

Made of high quality and durable PP plastic. It has a good load bearing of up to 10kgs. Compact and foldable to save space when not in use. It increases the closet space and can hang more clothes. Only 525g and 18.1 x 8.3 x 3.1 inches in size but can maximize your space to save up to 4 times your usual closet capacity. 
Product Specification:
Material: Plastic
Product Size: 18.1 x 8.3 x 3.1 inches
Product Weight: 525g
Color: white / pink
Package Included:
1 x  multifunctional foldable hanger