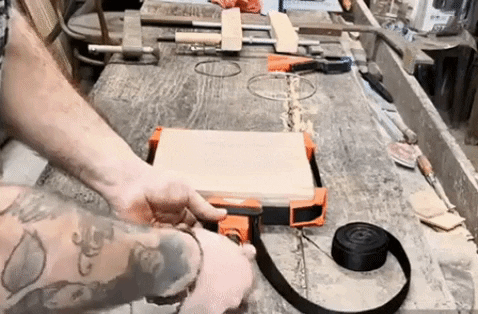 Cinch and assemble your joints better up at once. A strap and a clamp in one - Multifunction Woodworking Belt Strap Clamp is a convenient way to hold your pieces together. It straps and wraps the entire frame around together in one go. It's a convenient and ideal tool for holding square, round and irregular shaped work pieces.

FEATURES
Assemble round, pointed and irregular shaped pieces. Strap and hold wood pieces of various sizes and shapes together prior to fixing or glueing. Consist of a strap clamp and 4 pieces of clamping heads. Easy to use and easy to install for fast clamping needs.
Strap various shapes and sizes. Multifunction Woodworking Belt Strap Clamp is the perfect clamping tool for assembling pieces of various sizes and shapes. You can pull out a strap up to 4 meters of high-strength nylon webbing that is attached to the tension unit. Strap according to the shape. You can use the corner clamps on pointed end shapes such as squares and rectangle frames. You can easily remove them as well to shape oval, round and irregular shapes for assembly.
Multifunctional and comfortable handle. Especially designed rubber handle with anti-slip grip makes control easier. Adjust strap tension on the tension unit found in the handle as well. Manage your pieces easier and fix them in place with precision and better grip.
Product Specifications:
Material: ABS plastic
Product dimensions: 14 x 5.5 x 1.57 inches
Product weight: 12.8 ounces
Strap length: 4 meters
Color: Black
Package Included:
1 x handle/ tension unit
1 x 4m nylon strap
4 x corner clamps