Develop a healthy sit-stand working posture in the easiest way
Work on your laptops in the most comfortable way. Foldable Sit-Stand Laptop Desk prevents you from slouching while you meet your work deadlines. Constructed with durable PU material. It helps you set up with the top of the screen at eye level. It is adjustable with four viewing angles. Switch between sitting to standing position with its 10-inches height. Designed to be rock-steady, it holds up to 22 lbs. The laptop has a size of 239 x 279 x 254 mm when folded, that's why it looks invisible when you put it on your desk. 
HIGHLIGHT FEATURES
A great addition to your work-from-home setup. The

Multi-Angle Foldable Sit-Stand Laptop Desk creates a comfortable place for you and your laptop. No more slouching which helps prevent neck strain and shoulder stress. 
Sit-stand switch in seconds.

The laptop stand boasts a blade that opens and closes quickly. Designed with its 10-inch height, it quickly changes your sitting posture to a standing posture and relieves stress from your back in seconds. It allows you to take the stress off your back in seconds. 
Hold your devices at any angle.

The laptop stand is adjustable to four angles including 25°, 35°, 45°, and 60°. The 25° and 35° lets you work conveniently on a laptop. The 45° makes your laptop more manageable when you work with a keyboard, it makes you feel like you are working on a PC. With a 60° viewing angle, it changes your experience of browsing or creating a draft on a tablet more comfortably.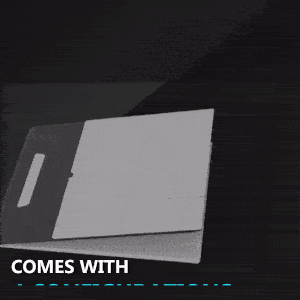 Smooth texture, work comfortably.

It makes you feel comfortable just when touching it. It is made with PU texture. It ensures that everything you touch is soft and silky to your hands. It also provides a bit of visual warmth to it rather than a cardboard feel that makes you want to work.
Foldable and Portable.

The laptop holder is easy to store. The lightweight and foldable design makes you work like a pro anywhere you want. It measures 239 x 279 x 254 mm.
Your Invisible and Reliable Desk.

The thinness of the laptop stand doesn't mean it's flimsy. It is thin and makes it invisible when you store it. It supports up to 22 pounds and secures any laptop with ease when you type, thanks to the Z construction in golden ratio and built-in magnets. Suitable for any laptops or tablets.
Product Specification:
Material: PU
Product Size: 239 x 279 x 254 mm
Product Weight: 890 g
Color: Orange, Silver, Black, Blue
Package includes:
1 x Foldable Sit-Stand Laptop Desk