A collapsible carry-on waist bag you can expand into a sizable pouch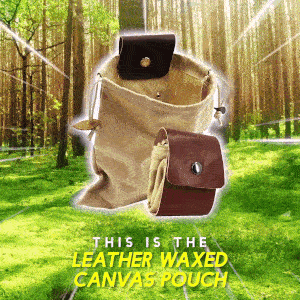 Forage fruits, food, or collect fire tinders while in the woods using Leather Waxed Canvas Outdoor Foraging Pouch. This collapsible carry-on waist bag unfolds into a sizable pouch. It's an ideal addition to your outdoor survival kit. Attach this to your belt and unsnap to transform it into a bag to slip on foraged fruits, veggies, leaves, hebs, and other things you want to collect. Bring this whenever you are outdoors for camping, fishing, hiking, trekking and other outdoor activities in the woods. 
HIGHLIGHT FEATURES
Compact bag for foraging runs into the woods.

Buckle Leather Waxed Canvas Outdoor Foraging Pouch on your belt and unsnap button to unfold it into a pouch, This on-the-go bag is perfect for foraging into the woods of food like wild berries, mushrooms, other wild edibles, wood barks, roots and firewood tinders.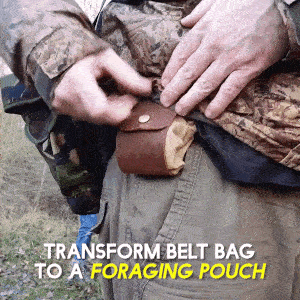 Conveniently store anything you pick up.

No need to bring a separate handheld bag or mess up your gear bag. This pouch is the perfect on-the-go storage for everything you pick while out and about. It's a great ready bag for a handful of items you just pick around.The roomy 9.25 x 8.27 inches lets you slip in trash,spruce needles for tea, and tools you need on hand while fishing, camping, trekking, hiking and other outdoor activities.
An extra large free pocket.

Made of durable waxed canvas and leather. Designed with a belt loop and snap buttons for easy unfolding. The pouch bag is also secured by a drawstring for a more convenient and easy closing. No free pocket? No problem. You can wear this anytime you're outdoors and expand whenever you need to carry items but have no free pocket. 
Product Specification:
Material: canvas, leather 
Product Size: 9.25 x 8.27 inches
Product Weight: 150 grams 
Color: brown, green, black, beige 
Package Included:
1  x Foraging Pouch