Kitchen Faucet Booster Water Filter is a splashproof shower tap head that dispenses water evenly and improves flow pressure for better water conservation. It also has a filter layer to reduce water impurities. Telescopic and rotatable at 360 degrees for more flexible use. Every kitchen faucet needs this!
Wash dishes and food faster. Boost your water flow and dispense water in the proper direction without splashing. The shower tap head evens the water dispensation preventing any splash. It improves water pressure making it easier to wash dishes and clean fruits and vegetables.
Filter water impurities. Remove water impurities. Kitchen Faucet Booster Water Filter has medical stones that can absorb water impurities and purify water as it passes. Drink and use cleaner water in your cooking.
Clean every corner of your sink. Flexible and can rotate at 360 degrees to easily direct the tap head on any corners of your sink. Just point and wash.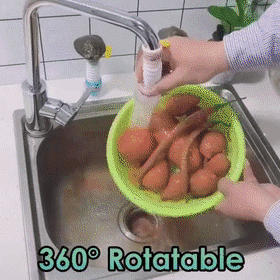 Install easily. Fits almost all sizes of faucet. Install and lock in place without hassle. Simple and straightforward design yet functional and very practical.
SPECIFICATION
Material: PP , PVC
Size: Before Stretching: 3x8cm/1.18"x3.14" ; After Stretching: 3x12cm/1.18"x4.72"
Color: Green Pink Blue
Weight: 70g
PACKAGE INCLUSION
1 x Kitchen Faucet Booster Water Filter