Stay warm and toasty when camping out
Imagine, after a long day of hiking and you can't get a comfortable sleep because of the cold weather or rocky ground. In reality, even when their bodies are totally exhausted, many hikers have trouble sleeping in the wilderness. When you are camping or hiking, energy is everything. 
Designed with your comfort in mind,
Inflatable Camping Sleeping Pad
conforms to your body and keeps you away from the cold, hard ground so that you get a good night's rest. This is easy to inflate and deflate. Equipped with integrated pillows that support your head. 
HIGHLIGHT FEATURES
Damp-proof and Leak-proof.

Keep you elevated from the hard ground all night long so you can wake up feeling refreshed. Made of Nylon + TPU, this is tear-resistant, puncture-resistant, and moisture-resistant. The spongy touch and snugly warmth can make you feel at ease.
Stamp to inflate, takes only 45 seconds.

There's no need to use your hands, mouth, or a pump to inflate! Save your energy, simply press the built-in pump with your foot for 45 seconds, and you're done! You'll never have to think about air leaking with anti-leakage films in the valves. This is also easy to deflate, simply remove the deflation plug.
Comfortable Head Pillow.

With its attached pillow, this can effectively support your head better and reduce neck pressure, allowing you to get good sleep and full relaxation. No more strained and sore necks!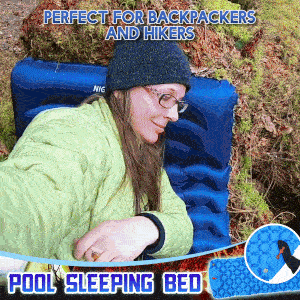 Sit and Sleep Anywhere You Love.

Inflatable Camping Sleeping Pad is raised 5 cm above the ground after inflation, protecting you from the cold earth and stones and keeping you warm, dry, and snug. After all, you'll need a good night's sleep for your exciting adventure. 
Fit perfectly inside your backpack.

This sleeping pad shrinks down to a compact size. This is made to be inflatable, lightweight, and compressible. With its attached cushion, you won't need to bring a pillow. Great sleeping bed for hiking trips or any outdoor activity such as backpacking, driving, or camping.

Product Specification:

Material: TPU + Nylon
Product Size: 190 x 57 x 5 cm, 190 x 58 x 5 cm, 190 x 60 x 5 cm
Product Weight: 
Without pillow: 450 g
With pillow: 500 g
Color: Navy Blue, Orange, Blue, Green

Package includes:

1 x Inflatable Camping Sleeping Pad