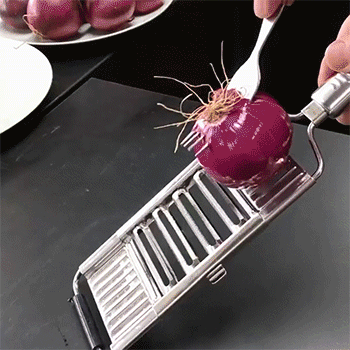 Make meal preps faster and home cooked meals healthier. Use HomeChix 5-in-1 Multipurpose Vegetable Slicer and Shredder for slice, shred and grate your ingredients. Made of durable stainless steel design with interchangeable blade parts. Perfect for prepping salads, appetizers, entrees and desserts.

Cut 8 slices in just one swipe. HomeChix 5-in-1 Multipurpose Vegetable Slicer and Shredder comes in 3 interchangeable blades that allows you to slice 8 pieces in single swiping motion. It's an impressive kitchen tool for fast and quick slicing.
6 different cuts in one tool. Serrated blade, julienne grater blade, cheese grater blade, v-blade, dice and stripes, blade, french fries blade in 3 interchangeable blades. Perfect for cutting potatoes, cheese, cucumber, zucchini, cabbages, carrots, onions, chocolates, and more!
Get perfect slices every single time. Make your food especially appealing with perfect cuts and slices. Proportioned and identical slides every time. It makes meal prepping more fun.
Multifunction and practical. No need for multiple tools to achieve different slices and cuts. You only need this multipurpose vegetable slicer for your cutting and shredding needs. Work on your meal preps efficiently and neatly.
Product Specification:
Material: Stainless Steel
Product Size: 30x7cm
Product Weight: 1.3 pounds
Package Included:
1 x Slicer Frame
3 x Blades
1 x Safety Holder