Tackle oily and greasy dishes without wasting time and effort on scrubbing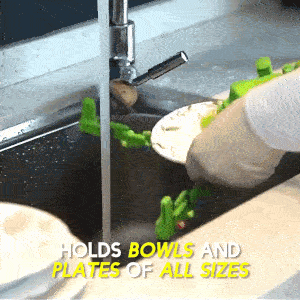 Too many oily and greasy dishes to wash? Manage washing dishes faster and completely remove oil and grease without tiring yourself from scrubbing. Use a Handheld Automatic Dishwasher to soap and scrub dishes while spinning it with precision to remove all food remains. It's an easy to use kitchen gadget that makes washing dishes 3x faster and cleaner. Featuring a waterproof and powerful motor with intelligent control, it's your  time-saving, convenient and efficient dishwashing buddy. 
HIGHLIGHT FEATURES
Wash dishes 3x faster without tiring your hands

. Hands-free scrubbing of plates, dishes, trays and saucers? It's possible by using a Handheld Automatic Dishwasher. This kitchen gadget is specifically designed to make washing dishes a breeze. It's your robotic arms that have arms for spinning, scrubbing and soaping the dishes in high speed and high precision. All you need to do is lock in the plate or bowl and pull the trigger.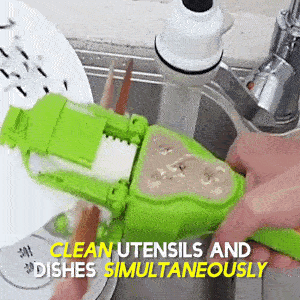 Wash all kinds of dishes, bowls and silverwares.

This handheld dishwasher can take care of plates in different sizes, bowls, silverwares including chopsticks. No need for sponge and scrubs. It has a built-in brush with anti-skid rollers to prevent scratching your dishes and dirt resistant sponge that you can easily replace. 
Secure, safe and clean dish washing.

No need to touch oil and grease while washing dishes. The scrubbing arms holds and locks the plates securely with an advance and good weight bearing. Insert the plate, lock to secure and pull the trigger to start washing.  
Convenient and intelligent control.

Rechargeable and powered by an internal battery, it can run up to 40 minutes. It's a suitable gadget for home dishwashing or a device for washing dishes in a canteen or cafeteria. The intelligent control panel also allows you to control cleaning time, turn on washing mode and dishwashing mode. It has powerful and waterproof motors that you can use while submerged in water or while on running water. 
Product Specification:
Material: plastic 
Product Size: 16.46 x 4.53 x 2.76 in
Speed: 500 RPM
Power Supply: Plug-in / Battery
Work Time: continuous(Plug-in) / 40 min (Battery)
Color: green
Package Included:
1 x Handheld Automatic Dishwasher