Save a lot of time and money in the home waxing
Waxing, for those who like to remove their body hair, not only leaves a flawless finish, but it can also be far less expensive than going to the spa when done at home. Achieve that silky smooth skin at the comfort of your home with a Hair Removal Home Waxing Kit. This is an all-natural, effective, and easy way to remove unwanted hair without all the nasty chemicals used in quality hard wax beans.No more irritation, no more mess,  no more inflammations!
HIGHLIGHT FEATURES
100% Natural and Relaxing Hard Wax Beans.

Hair Removal Home Waxing Kit comes with natural wax beads in four different flavors: chamomile, cream, rose, and initial. Choose whatever flavor you prefer to remove your body hair while relaxing to achieve the best waxing and hair removal results. Use this on your face, head, armpits, thighs, bikini area, feet, eyebrows, ankles, and upper lips.
Durable Wax Warmer.

The wax heater is made to be a 500 ml at-home waxing pot. It keeps working and retains the perfect wax consistency during the day. Importantly, it makes use of heat-resistant ABS content to avoid overheating.
Adjustable Temperature.

The heater offers precise even temperature control, engineered for melting wax, hard wax, wax beans, wax bricks quickly and evenly, with an adjustable temperature dial ranging from 160°F-240°F for control and to maximize your comfort.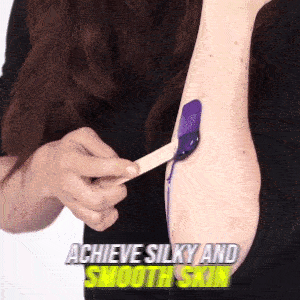 Hassle-free Operation.

Choose the temperature according to your need. Place the wax beads in the wax machine, heat the wax to a flow state, and stir the wax with a spatula. Simply heat the wax in the pot for 10 minutes before applying with the provided wooden applicator. For complete body depilatory needs, the wax hardens on its own, and you literally pull it off smoothly without applying strips on top.
Achieve silky, smooth skin.

Ideal waxing kits for men's and women's hair removal needs, whether at home or at a waxing spa salon, for complete body depilatory needs. Waxing hair removal removes hair from the root, slowing growth and allowing you to enjoy being hairless for 3–6 weeks.
Product Specification:
Material: ABS + 100% Natural Ingredients
Product Size: 
Product Weight: 
Color: Black, Pink, White, Purple
Package includes:
1 x Wax Heater
4 x Different flavors wax beads
1 x Pre & Post Wax spray
1 x Replacement Silicone Wax Pot
20 x Wax Applicator Sticks