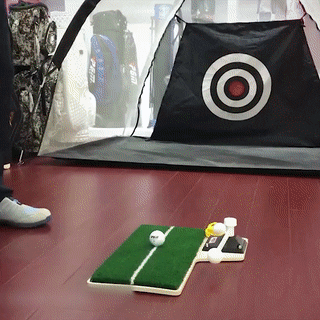 Simulate golf swing, posture and hitting at home or any indoors. Can't go to the golf course? Not enough space to practice? Golfgold Golf Swing Indoor Training Mat provides your much needed golf simulation for practicing your swing, putting and calibrating your golf clubs.

FEATURES
Golf play simulation. Can't go to the driving range? Improve your swing at home or indoors. Golfgold Golf Swing Indoor Training Mat replicates the tee box. It gives you the feels of a real tee box or fairway and allows you to practice at home. Made of 15mm UV protected ABS plastic base that replicates a green grass.
Improve your golfing posture. Practice and prevent pain on your wrists, arms and shoulders by having an indoor golf simulation. It's designed to practice different swings for different shots. Practice proper swing, alignment and stance to prevent common game injuries.
Comes in three practice modes. Golfgold Golf Swing Indoor Training Mat is designed with a rotary lever to help improve hitting accuracy. It comes in three modes - fixed point for setting and hitting ball accuracy, yellow line for practicing swing speed and improved range, and 180 rotative lever for putting and aiming practice.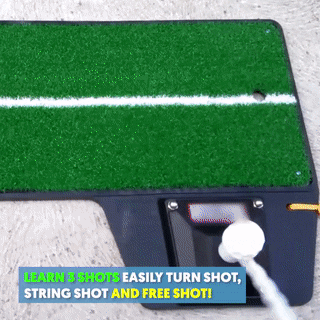 Practice anywhere, anytime. Simulate like in a real golf play and train practically anywhere, anytime. The training mat is only 47cm x 23cm x 1cm in size which allows you to practice in smaller indoor areas or outdoors. Play in your room, office, hotel, garden, lawn or anywhere. Once done, you can easily roll it up out of the way.
Product Specifications:
Product Size: 47cm x 23cm x 1cm
Product weight: 2.25kg
Package Included:
1 x swing pad
1 x yellow line ball
1 x bottom plate
1 x tee