Projects stars, planets, and the universe onto any ceiling or wall in amazing detail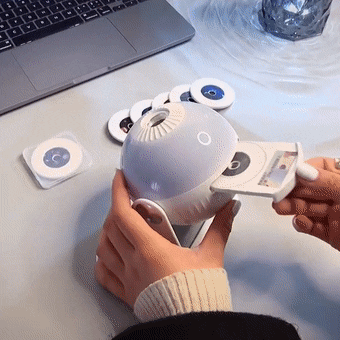 Bring the galaxy to your backdrop. Create a perfect backdrop for your photos and videos with no green screen or artificial lights needed. Get a high definition background of the nebula and galaxies perfect for your photos, content, streams and short videos.HD Galaxy Projector is the perfect tool to create inspiring and breathtaking backgrounds with natural effect and minimal need for set up. This projector provides different backdrop sets for aspiring photographers and content creators without necessarily breaking the bank. 
HIGHLIGHT FEATURES
High-definition galaxy backgrounds.

This is not just any projector light, it's a high-definition projector that provides realistic backdrops. Alternate 6 kinds of high-definition of galaxies that come in different colors. Add more mysticism and creativity to your background. 
Fill your studio with starry night light

. Set up an ambient and starry backdrop for your photos, streams and videos in wide coverage. This HD projector can cover up to 40 square meters, turning your entire studio into the illusion of being under or in the middle of the galaxy.
Professional content backdrop.

  Night sky stars and universe space are popular backdrops for photographers and content creators. Rotating LED Galaxy Light Star Projector also features 3 colors and 5 lighting modes, you can alternate multiple backgrounds to make the most unique aesthetics for your photography, content designs and content creations.  
Look up at the starry sky. Immerse in the stunning and realistic night sky projection. This is perfect for people who love stargazing and the beauty of the universe. It makes a perfect room decoration to set up a colorful space, ambient lights, and relaxing mood with sounds.
Product Features:
HD rotating focus

Six kinds of high-definition projection

Sub-light big atmosphere

5 lighting modes

3 colors

Timed shutdown
Product Specification:
Material: ABS plastic + electronic components
Product Size: 121x100x122mm
Product Weight: 2.2 lbs
Color: white 
Technical specifications:
Projection: single starry sky projector + 6 kinds of starry sky lights
Projection area: 40 square meters
Power wattage: 3W
Package Included:
1 x Galaxy Projector
6 x galaxy lenses