Let your family or friends have a good dream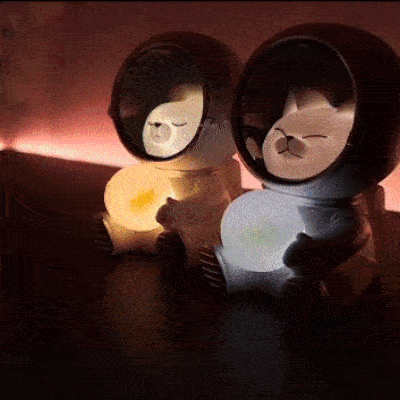 It can not only be used as a small LED table lamp, but also as a room decoration craft. it is suitable for any age, whether they are adults or children!
HIGHLIGHT FEATURES
Cute spaceman: Galaxy Guardian LED Night Light is composed of little animals, an eye-catching starry sky top, very cute and cool designs with exquisite details, which will make people like it immediately. Whether it's a baby boy or a baby girl, you can use it for gift ideas with birthdays, holidays, Halloween, Anniversary, Christmas
Made from Safe materials:  Galaxy Guardian LED Night Light warm lighting can make it accompany your family to sleep, make people sleep more quiet and comfortable, hope to let your family or friends have a good dream.
Safe power supply: The astronaut night light is powered by 3pcs LR1130 batteries (not included), so there is no need to worry about accidental electric shock or circuit safety issues to ensure safety. The battery needs to be purchased separately
Material: durable resin material, does not fade, very durable, the astronaut desk lamp can be used for a long time.
Decorative ornaments: The small and exquisite appearance, can be placed anywhere you want to create a unique atmosphere. It can be used on various occasions, such as in children's bedroom, study room, and living room
Product Specification:
Product Size: 8.5cm*12cm
Battery: 3 button battery ( AG10/ LR1130/ L1131/390/RW39/V390 )(Battery Not included)
Voltage: 4.5V
Color: White
Light color: Warm White
Package Included:
1 x Galaxy Guardian LED Night Light