Provide smooth countersinking and deburring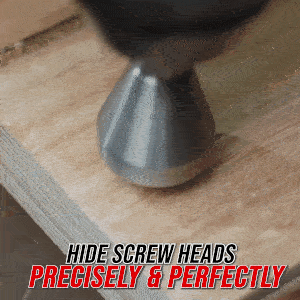 Flute Countersink Drill Bit Set is extremely useful, whether it's for a DIY woodworking and drilling project or for professional use.  The set includes basic Cobalt all-purpose tools for perfect countersinking and deburring. The cutting operation is chatter-free and requires a little drilling effort
HIGHLIGHT FEATURES
Indispensable, Sturdy, and Quality Bits.

Flute Countersink Drill Bit Set is made of high-speed steel 4241. Using both drill presses and hand-held drills, it cuts cleanly and effortlessly without chattering or tear-out.
Five-flute design.

Each bit all has a 90° angle on the point for sharp and accurate countersinking. The cutting edge is hardened and honed to ensure sharpness. The bit features a five-flute design with spaced cutting teeth which makes drilling chatter-free. 
Inside chip removal.

Cutting is much easier, safer, and quieter with the inside chip removal. Round shanks are compatible with a wide range of tooling systems.
Provides smooth drilling experience.

Every countersink has a golden oxide coating to resist corrosion and a five-flute design that removes chips faster and drills smoother while ensuring long-lasting use.The set has sizes: 0.08"-0.19"(2mm-5mm)/ 0.19"-0.39"(5mm-10mm)/ 0.39"-0.59"(10mm-15mm)/ 0.59"-0.79"(15mm-20mm). Great for drilling holes into most metals, plywood, softwood, hardwood, fiberglass plastic, mild steel,
Minimal effort, maximum efficiency.

The cutting operation is chatter-free and needs very little strength. On a variety of materials, the micro-smooth CNC precision ground construction achieves clean, smooth cutting without smearing.
Product Specification:
Material: High-speed Steel 4241, Cobalt
Product Size: 
0.08"-0.19"(2mm-5mm)
0.19"-0.39"(5mm-10mm)
0.39"-0.59"(10mm-15mm)
0.59"-0.79"(15mm-20mm)
Color: Gold
Package includes:
1 set x Flute Countersink Drill Bit Set