Strengthen your core and improve your balance, coordination, focus and posture. FitBalance Wooden Wobble Balance Board is a simple workout tool you can use to target and tone specific muscles, ligaments, tendons and joints areas. It's a round balance board designed with an anti-skid surface to hold any footwear in place. A perfect equipment to do home workouts.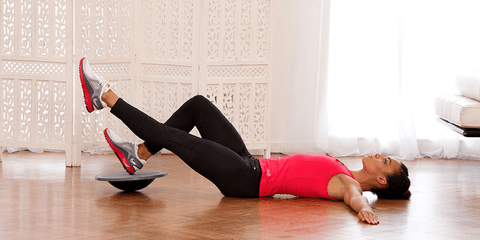 FEATURES
Great for balance training. Balance training enhances and improves targeted muscle areas and tone them without bulky results. It's a great tool aid for performing different workout movements and stretch poses such as side to side, front to back, stretch and circular drills.
Improve your physical strength. FitBalance Wooden Wobble Balance Board not only tones your muscles and core but also enhances your posture, visual sense, balance, coordination and focus. It has a 15.57" anti-skid surface that allows you to grip and stand better on the board on any type of footwear.
Exercise anytime, anywhere. This balance board comes in a removable bottom which makes it portable and travel-friendly. It's lightweight so you can opt to bring it with your indoors or outdoors to perform your workout routines.
Product Specification:
Material: Wood
Product Size: 15.75 x 15.75 x 3
Weight capacity: 300 lbs
Package Included:
1 x Wooden Wobble Balance Board