Instant fix to cover and patch tears on different materials
Patch tears and seal off leaks in your farm using Fiber Waterproof Sealing Repair Tape. This multipurpose tape is ideal for sealing leakage on water pipes, buckets, or can be used as insulation tape to patch horse flysheets and poultry tents. The strong adhesive makes it stick on different surfaces including steel, PVC, plastic, and more. Waterproof, weatherproof and holds up really well. 
HIGHLIGHT FEATURES
Quick patch on tears.

Fiber Waterproof Sealing Repair Tape is an instant fix to cover and patch tears on different materials. Extremely strong adhesive does a great job on covering tears and rips on tarps, leather, fabrics, nylon and PU materials. The wide roll makes it a great patch fix.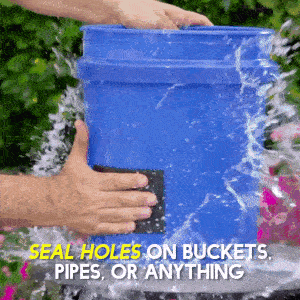 Seal off leakage and holes.

Seal off leaking pipes, hoses, buckets and containers. Formulated with hyper aggressive wet-stick adhesive, it sticks on wet surfaces with durability and flexibility. It makes a quick solution to leaking water pipes, feeders, and holes in poultry, barn, and stables. 
Weatherproof and waterproof sealing tape.

This tape can withstand all weather and temperatures from -70F to 200F. It sticks on rough, dirty, wet surfaces and even underwater. UV resistant and makes an insulating tape. Easy to cut according to the length you need. 
Product Specification:
Material: ‎Polyvinyl Chloride
Product Size: ‎20 x 9 x 9 cm
Product Weight: 310 Grams
Color: black
Package Included:
 1 x roll of Fiber Waterproof Sealing Repair Tape